In the past, there were very few robot vacuum manufacturers and models to choose from. Shoppers today are truly blessed to have ever increasing options, including those from leading brands iRobot and Eufy. Alas, you can't have both unless you have the money to spend. So, if you had to choose only one, which one should you go for?
Eufy VS Roomba Comparison Chart
| | | |
| --- | --- | --- |
| Model | Eufy RoboVac 11S | Roomba 960 |
| | | |
| Price | | |
| Rating | | |
| 3-Stage Cleaning | Yes | Yes |
| Wi-Fi Connectivity | No | Yes |
| Navigation | Bounce | iAdapt 2.0 |
| Barriers | Boundary Strips | Virtual Walls |
| Boost Technology | BoostIQ | Carpet Boost |
| Scheduling | Yes | Yes |
| Main Extractors | Bristled | Rubber Rollers |
Looking to compare more tablet models?
Check out our interactive tablet comparison chart.
Branding
Roomba has been in the market longer but Eufy is worth a second glance.
Considered as the gold standard for robot vacuums, Roomba has continuously been developing new functionalities and features since they first entered the market in 2002. Eufy, on the other hand, is not falling behind either. They are known as a company that produces affordable vacuums with higher-end specs.
Cleaning System
Both Roombas and RoboVacs follow a three-stage cleaning process.
Each Eufy model is similar in that they use a three-stage cleaning process for clearing dust and dirt, along with highly efficient triple filters. Their suction power is comparable, if not better, than many expensive counterparts as well. Although older models couldn't handle medium-pile or thicker carpets, recent units are able to do so with ease. Roombas also follow a three-stage cleaning process through AeroVac, AeroVac 2, or AeroForce technology. The 800 and 900 series models feature rubber debris extractors that don't tangle with hairs. Plus, they break down bigger particles to make them easier to be sucked into the dust bin.
Wireless Connectivity
All Roombas in the market today can connect to a Wi-Fi network.
Despite there being a wide range of models available, Roombas share certain features like Wi-Fi connectivity. This allows users to control the vacuum via the companion app. Smart home integration enables operation by voice command through Google Assistant and Amazon Alexa devices too. Most RoboVacs cannot be controlled through an app though newer models like the 11c can be operated with EufyHome.
RoboVacs can't compete with the iAdapt technology of Roombas.
For navigation, Roombas use either the iAdapt or iAdapt 2.0 system. These use sensors for detecting edges and dirty areas. The latter simply has a visual localization camera for creating virtual maps of the floor. Meanwhile, Eufy RoboVacs make use of Bounce technology where it bounces off obstacles and works in a back-and-forth pattern.
Virtual Wall Barriers
Roombas have been bundled with virtual walls for a while now while RoboVac is trying to keep pace.
One of the best things about Roomba would have to be their virtual wall barriers. Emitting an infrared beam, they prevent the unit from entering off-limit areas. Dual mode versions with halo functionality can even protect specific sections of a room like expensive décor or pet food bowls. RoboVacs fall behind when it comes to technology for cordoning areas. It wasn't until the RoboVac 30 when they offered boundary strips, which are like outdated virtual wall barriers.
Boost Technology
Where Roomba has Carpet Boost, RoboVac has BoostIQ.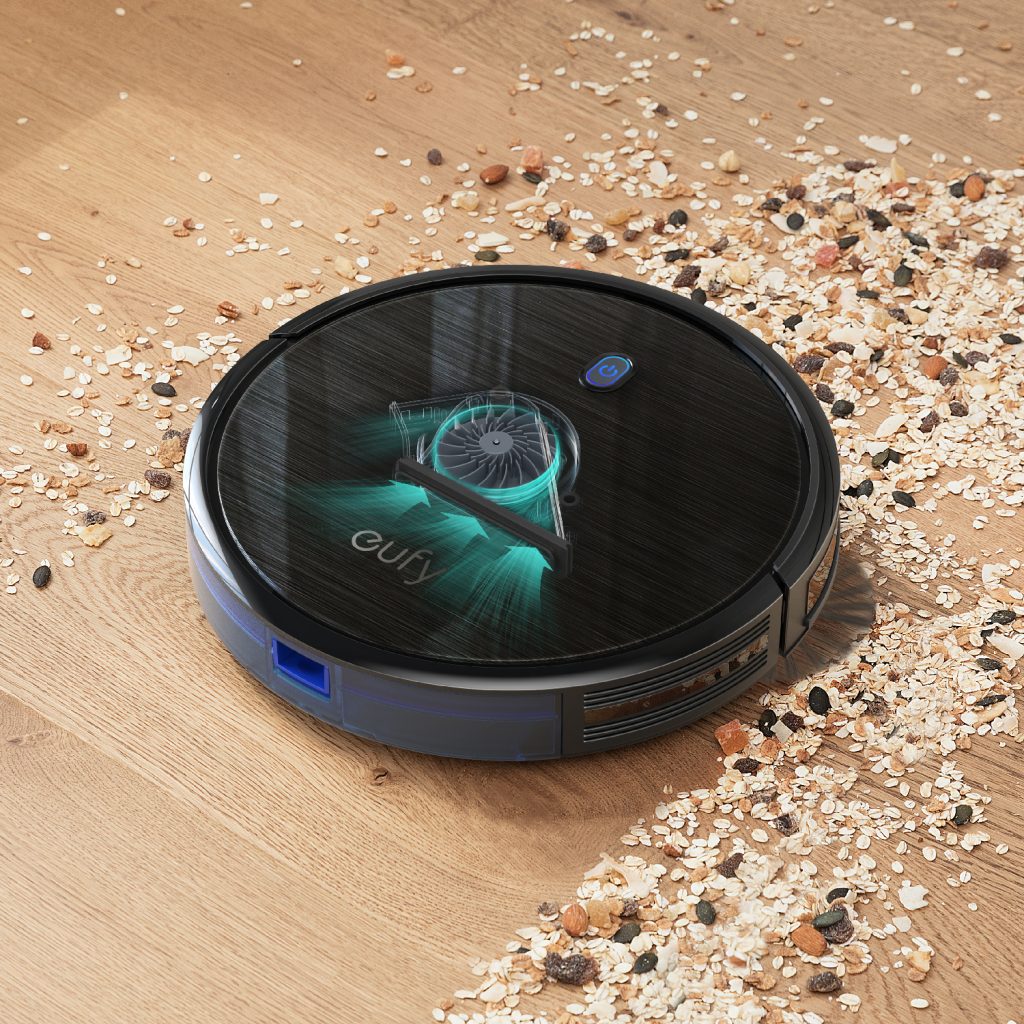 Newer Eufy models have BoostIQ technology for dealing with stubborn patches. They still work pretty quietly despite all that power though. Large caster wheels have made it possible for them to transition between different types of flooring too. A similar offering from Roomba is the Carpet Boost where it detects if it's on a carpeted surface and kicks the motor into overdrive.
Scheduling
Both RoboVacs and Roombas allow users to schedule cleaning runs.
It is possible to schedule daily cleaning runs with all Roomba models on the market today. They also have the capability to detect when they're low on battery and return to their charging dock. The RoboVac 11 and 11s also have this kind of feature. With scheduled cleaning, you can just leave the mess to your robot vacuums without having to manually operate them frequently.
Verdict
Overall, Roombas have better navigation but RoboVacs are catching up with the features in their newer models.
To enjoy features such as Google Assistant support and virtual wall barriers, invest in a higher-end Roomba for customized cleaning.
If you'd prefer something more basic but still efficient, Eufy has several affordable options that would fit the bill.
Last update on 2020-01-28 / Affiliate links / Images from Amazon Product Advertising API