Are you interested in babywearing but you don't know which one to get? If you are, then look no further as we will be taking a look at two of the most popular baby carriers in the market today: the Ergobaby Embrace and the BabyBjörn Mini. We'll be comparing these two baby carriers and find out which one is better for you. For starters, here is a quick comparison between the two.
Ergobaby Embrace vs BabyBjörn Mini Comparison Chart
Model
Ergobaby Embrace
BabyBjörn Mini
Amazon product
Amazon product
Price
Amazon product
Amazon product
Fabric Type
Polyester, rayon and spandex blend
3D Mesh
3D Jersey
Cotton
Minimum Weight
7 lbs
7 lbs
Maximum Weight
25 lbs
24 lbs
Carrying Positions
Newborn mode
Front carrying facing in
Front carrying facing out
Front carrying facing in
Front carrying facing out
Adjustable Head Neck Support
Yes
Yes
Waist Strap
Yes
No
Shoulder Strap
Spreadable shoulder straps
Standard shoulder straps
Machine Washable
Yes
Yes
Available Colors
Blush Pink, Heather Grey, Oxford Blue, Pure Black and Soft Navy
3D Mesh: Anthracite, Navy Blue, Pearly Pink
Cotton: Black, Dusty Pink, Vintage Indigo
3D Jersey: Dark Gray, Dove Blue, Light Hray
Design
The BabyBjörn Mini comes with more fabric type and color options than the Ergobaby Embrace.
The minimum and maximum weight limit for the Ergobaby Embrace and BabyBjörn Mini are pretty similar at 7-25 lbs and 7-24 lbs, respectively. Both baby carriers are suitable for newborns to up to 12 months, or more, if your baby is still within the weight limit.
As for the fabric used, the Ergobaby Embrace comes with a rayon, spandex and polyester blend. It is breathable, lightweight and soft, to provide comfort for your baby. The Ergobaby Embrace baby carrier is available in five colors: heather grey, blush pink, soft navy, pure black and oxford blue.
In comparison, the BabyBjörn Mini baby carrier comes with three fabric options: 3D mesh, 3D jersey and cotton. The 3D mesh fabric is durable and breathable. It allows your baby to stay in a natural position while in the carrier. The fabric can also withstand regular washing without losing its shape.
Cotton and 3D jersey are similarly soft to the touch, with the 3D jersey having a slightly softer feel. The 3D jersey fabric is also more flexible and durable. With the BabyBjörn Mini, you can choose from nine (9) different colors available; three (3) for each fabric type.
Ergonomics and Support
Both carriers provide ample support for your baby, but the Ergobaby Embrace provides better support for the wearer.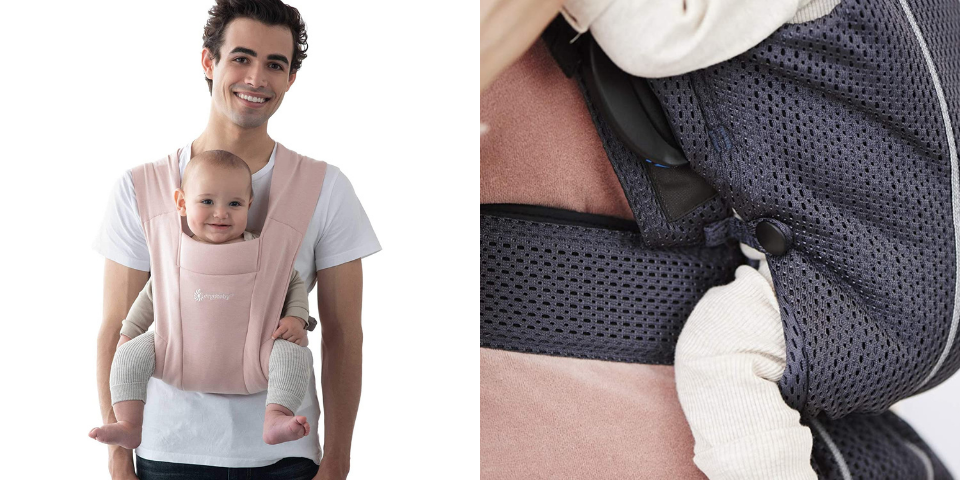 When choosing a baby carrier, the most important factor to consider is its ability to support your baby, specifically their head, neck and waist/hips. With the Ergobaby Embrace and BabyBjörn Mini, your baby will be properly supported as both carriers are designed with ergonomics and support for your baby in mind.
Both carriers feature adjustable head supports for your baby, which can then be folded when your baby is ready to be in a front facing position. Hip support is also very good. Both are able to keep your child in an "M-position," which is important for your child's development.
For the parents, shoulder and lower back support are factors that also need to be considered when choosing a baby carrier. With the Ergobaby Embrace, the shoulder straps are spreadable, which helps distribute the weight of your child evenly. It also comes with a thick waistbelt that is padded, in order to support your lower back. In comparison, the BabyBjörn Mini only has standard shoulder straps and lacks any sort of lower back support.
Functionality and Ease of Use
Both are durable and user-friendly.
Both baby carriers can be used from birth, provided that your child is at least 7 lbs. With the Ergobaby Embrace, there are three front carrying positions: newborn mode, facing in and facing out. In comparison, the BabyBjörn has two: facing in and facing out.
When it comes to putting on the carrier and taking it off, both are easy enough. The buckles are easy to locate, and can be adjusted with one hand, which is important because you want to support your baby with the other hand.
Durability is not an issue with either carriers. The fabrics used are of good quality, and will hold up well, even when machine washed frequently.
Verdict
While both carriers will support your baby well, the Ergobaby Embrace's better back support for the parent makes it the better choice.
Amazon product
Pregnancy is hard on the body, so getting a carrier that will also properly support the wearer should be a major consideration. That said, the Ergobaby Embrace is our choice, due to its better shoulder and lower back support. It's spreadable shoulder strap allows it to evenly distribute the weight of the baby, and its thick and padded waist strap will support your lower back.
The BabyBjörn Mini, while lacking back support, is still a good choice for people that will only wear it for a short amount of time. Also, the absence of a waist strap allows it to fit better for people that are plus sized.
FAQs
📌 Which is better: Ergobaby or BabyBjörn?
It will depend on specific items. In our comparison of the Ergobaby Embrace vs BabyBjörn Mini, we think that the better support provided by the Ergobaby Embrace makes it the better carrier.
📌 Are Ergobaby carriers worth the money?
Yes, they are great for supporting your baby, as well as your shoulders and your back.
📌 Are BabyBjörn carriers safe?
BabyBjörn carriers are absolutely safe for your child.
📌 What is the difference between the BabyBjörn Original and Mini?
The biggest difference between the two is the wider seat that can be found on the BabyBjörn Mini. It will provide better support and comfort for your baby.