These days, people are not only working from home but working out at home, too. Fortunately, the growing trend towards more interactive fitness programs has translated to better, tech-driven equipment you can enjoy at home as well.
Peloton, perhaps the Bentley of high-tech stationary bikes, has long been a staple of the home gym. That is, if you can afford its premium price tag. But if money is a concern, brands like Echelon offer the closest indoor bike experience to Peloton that's below $2,000. You also get live and on-demand fitness classes for a truly immersive training experience. With this in mind, how does the Echelon's upper-tier bike model, the EX5S, stack up against the tried-and-tested Peloton bike?
Deal Finder
Echelon EX5S vs Peloton Comparison Chart
Model
Echelon EX5S
Peloton
 
Price
Check Price

at Amazon.com

Check Price

at Peloton.com

Dimensions
52.4 x 21.2 x 56.3 inches
60 X 24 X 48 inches
Frame
Steel
Steel
User Weight Capacity
300 lbs
305 lbs
Resistance
Indexing resistance adjustment knob with 32 levels of magnetic resistance
Neodymium rare earth magnet system
Seat
Competition seat with 6-inch lever-style adjustment
Sport series saddle with ergonomic center channel
Pedals
SPD Compatible with fully adjustable toe cage
Delta-compatible aluminum pedals
Display
21.5″ HD Touchscreen with 180° flip
21.5″ Full HD 1080p PCAP Multitouch
Connectivity
WiFi 802.11 a/b/g/n/ac
Bluetooth 4.0
100 Mbps ethernet is recommended for optimal performance
WiFi 802.11 a/b/g/n/ac
ANT+ wireless
Bluetooth 4.0
100 Mbps ethernet
App
Echelon Fit
Peloton App
Monthly Subscription Fee
$39.99
$39.00
Power Requirements
100 V to 240 V
50 Hz to 60 Hz
1.2 A Max
100 V to 240 V
50 Hz to 60 Hz
1.2 A Max
Warrant
12-month limited parts and labor warranty and 30-day return policy.
12-month limited parts and labor warranty and 30-day return policy.
Design and Display
The Echelon EX5S and the Peloton are compact-sized exercise bikes made of a durable, steel frame. 
In terms of design, the Echelon EX5S and the Peloton come in highly-durable carbon steel frames. Their black bodies look sleek, while the red-accents on the wheels and adjustment knobs lend a vibrant touch that should brighten up your work-out-at-home space.
The Peloton comes in heavier at 135 lbs, which makes the EX5S a lot easier to move around. But it also means the Peloton feels a lot more stable when going hard in training, while also having a slight advantage in terms of user weight capacity. Both bikes are just below 25-inches wide, with the Echelon coming in narrower at just over 20-inches, ensuring they fit in most indoor gyms.
As the top-of-the-line model of the Echelon bikes, the EX5S comes closest in mirroring the Peloton by including a built-in display. The Peloton has long boasted its high-definition color touchscreen as part of its premium offerings. The display also features a camera that allows you to video chat with friends while training.
With the EX5S, that premium advantage is a little slimmer as the Echelon bike also comes with a 21.5-inch high-definition touchscreen. Plus, its screen rotates 180-degrees, so you can flip it when you're doing off-the-bike classes.
Deal Finder
Connectivity
Both Echelon and Peloton come with free mobile apps that can only be maximized with a paid subscription to their respective training programs.
For both bikes, the accompanying Echelon Fit and Peloton apps are available for download in Google's PlayStore and the Apple App Store for free. To maximize their features, however, you'll have to purchase a monthly subscription or, if you want to save, pay the yearly fee instead. While you can operate the bikes even without a subscription, you will miss out on basic functions, including recording workout metrics and enjoying the bike's carefully curated workout playlists.
For more accurate tracking of stats, you can also connect your Bluetooth device with both bikes. Through the Echelon Fit app, you can link your Fitbit and Strava accounts to monitor your progress, and share these metrics with your instructor or friends. Peloton also recently launched its app that's compatible with the Apple Watch. While its features are still light, you do get basic functionality including heart rate monitoring and indoor workout stats.
Deal Finder
Training Program
Peloton's training programs and instructors are better than Echelon's.
Both Echelon and Peloton offer a plethora of interactive training programs. The expansive on-demand content means you should find no trouble choosing which class best suits you. With the Peloton app, for example, you can filter classes based on intensity level, type, instructor, music, and length. Through the Echo Fit App, you also get to choose your trainer and similarly enjoy a range of non-cycling activities like strength, yoga, and meditation.
Peloton, however, holds an advantage with their elite instructors who boast a broad range of teaching styles and experience levels. Whether you're joining live or watching a pre-recorded class, the trainers are a lot more personable than those in Echelon, delivering authentic and inspiring workout sessions that lives up to the brand's premium status.
If you're planning to get your family and friends training, the Peloton also has unlimited accounts for the family, as well as a leaderboard to check the real-time rankings of your fitness buddies.
Performance
Although both offer equal levels of comfort with their ergonomic designs, the Peloton will have the upper-hand in terms of finer resistance adjustments while the Echelon wins in pedal compatibility.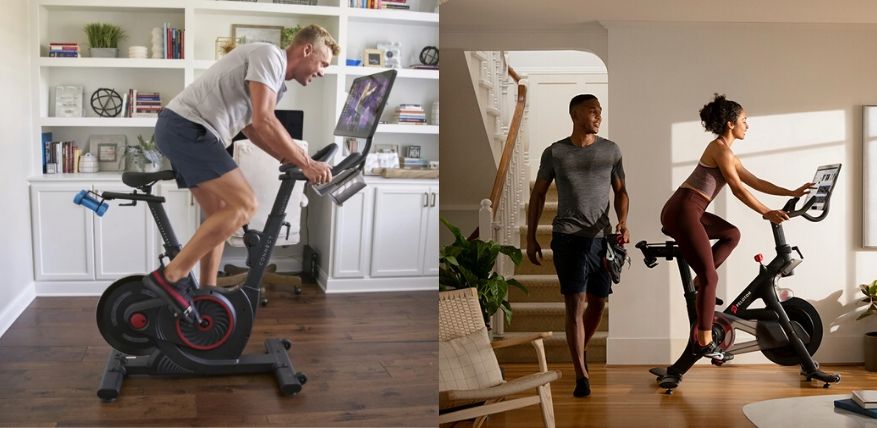 Because Peloton uses LOOK delta pedals, you'll have to purchase cycling shoes that are clip compatible too. The Echelon's SPD pedals and adjustable cages, on the other hand, mean you can ride it right away with ample options. Given the price tag on the Peloton, shelling out money to purchase a specific shoe you can use on the bike is a bit disappointing.
Nonetheless, the Peloton makes up for it by using Neodymium rare-earth magnet for its resistance. With this system, the spin bike can offer 0-100 level which affords finer adjustments to resistance as opposed to the Echelon's 32 levels. On the Peloton, changes to the settings also feel a lot more fluid, pushing users to work hard and more efficiently compared to the EX5S bike, which seems to be less sensitive to resistance adjustments.
Both bikes, however, deliver a quiet ride and come with comfortable seat designs, cushions, and handlebars. With the Echelon, you get a competition style-seat that can be moved up, down, forwards, and backwards. The Aero handlebar system also offers a great range of movement depending on the comfort or performance level you desire. Peloton's seat and handlebars are similarly adjustable to ensure maximum comfort based on your reach.
Verdict
The Echelon is ideal for beginners on a budget while the Peloton is a worthy investment for those who want premium training programs.
Deal Finder
Deal Finder
Peloton Bike
Pair the Peloton bike with its app (monthly subscription required) to access online workout classes for at-home workouts. Choose from Peloton Bike Basics, Essentials, Works, and Family packages that include delivery and assembly at home.
Check Price on Peloton
We are reader supported. When you buy through our links we may earn an affiliate commission.
If you're someone interested in engaging in intensive workouts that's as close as it can get to the studio, then the Peloton bike is for you. With elite-level trainers and an impressive range of workout content, you'll find this exercise bike as a worthy splurge. The HD display on this equipment works seamlessly with the app, and is truly maximized thanks to Peloton's best-in-class interactive training programs.
But if you're a beginner on a budget, the Echelon should be a good match. Its top-tier model, the Echelon EX5S, includes a built-in display much like the Peloton, and offers a variety of workout classes that should be great for those starting out.
FAQs
📌 Which is better, Echelon or Peloton?
Peloton is overall the better indoor bike, but if you're only a beginner and want to save, Echelon's bikes remain a solid option.
📌 What's the difference between Echelon and Peloton bikes?
Perhaps the biggest difference between Echelon and Peloton bikes is their price tag. Peloton bikes have more levels of resistance and its app provides extensive workouts from elite-level trainers.
📌 Can I use an Echelon stationary bike without a subscription?
Yes, you can still use an Echelon bike even without a subscription, but you can no longer track your metrics on its display without a subscription.
📌 Can I use a Peloton stationary bike without a subscription?
Yes, just like with Echelon, you can still use your Peloton bike if you're not subscribed to its app. However, you can't track your metrics using the bike anymore without a monthly subscription.