Cubii is among the front-runners in popularizing under-desk ellipticals, setting out to alleviate the negative effects of a sedentary lifestyle one step at a time. These machines can help people be more active even while working at the office or at home. In other words, they're convenient to use since you can just pedal away as you, say, write a memo or email. That way, it's easy to add a little more physical activity to your busy schedule.
But as a bona fide elliptical machine, is the Cubii worth it? The short answer is yes. It's arguably one of the most well-made out there, and the benefits are real. After all, the Cubii JR1 and Cubii JR2 are go-to picks for a good reason—besides the Go and Pro variants, that is. On that note, we take a look at the JR series and how the two stack up against each other.
Cubii JR1 vs Cubii JR2 Comparison Chart
| | | |
| --- | --- | --- |
| Model | Cubii JR1 | Cubii JR2 |
|   | Amazon product | Amazon product |
| Price | Amazon product | Amazon product |
| Resistance Levels | 8 | 8 |
| Metrics | Calories, distance, revolutions per minute (RPM), active minutes | Calories, distance, revolutions per minute (RPM), active minutes |
| Display | LCD | LCD |
| Non-Slip Mat | Yes | Yes |
| Wheel Cups | Yes | No |
| Chair Lock | No | Yes |
| Foot Straps | No | Yes |
| Weight | 27 lbs | 18.9 lbs |
| Dimensions | 23″ x 17.5″ x 10″ | 22.24″ x 11.8″ x 11.6″ |
| Colors | Aqua, Purple, Yellow, White (premium) | Green |
Cubii JR1 vs JR2 — What's the Difference?
The Cubii JR2 has plenty of advantages over the Cubii JR1, including a lighter weight and adjustable foot straps.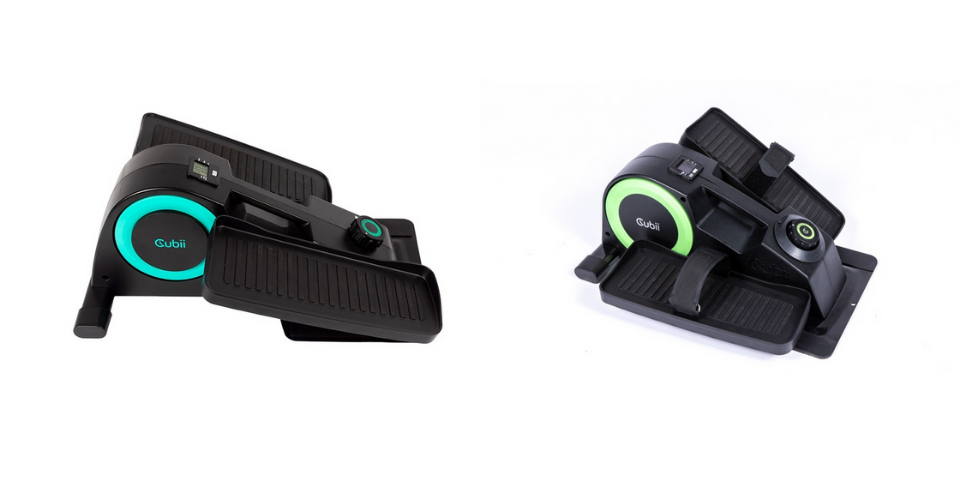 To start things off, the Cubii JR1 and Cubii JR2 share a lot of similarities. In fact, they're practically the same machine with only a few differences here and there. Both have eight levels of resistance, a battery-powered LCD display, and Cubii app support. They also track the same metrics: distance, calories, RPMs, and active minutes.
But if you put them side by side, it's easy to tell which one is which. The Cubii JR2 is more compact, and it's noticeably lighter, weighing only 18.9 lbs as opposed to 27 lbs. In addition, it has adjustable foot straps and a chair lock instead of two wheel cups. Like the Cubii JR1, it also comes with a non-slip mat.
Performance-wise, the Cubii JR2 beats the Cubii JR1. For one thing, it has a more ergonomic form factor for better comfort and ease of use. On top of that, it features a ZeroGravitii flywheel, and that makes for a smooth stride with minimal noise.
The Cubii JR1 does have the edge when it comes to pricing, but it's only slightly cheaper. Unlike the Cubii JR2 that only comes in green, it's available in aqua, purple, yellow, and white, the last of which is sold as a premium bundle that includes two three-pound dumbbells.
Cubii JR Review
As far as under-desk elliptical machines go, the Cubii JR1 and Cubii JR2 are two of the best that money can buy.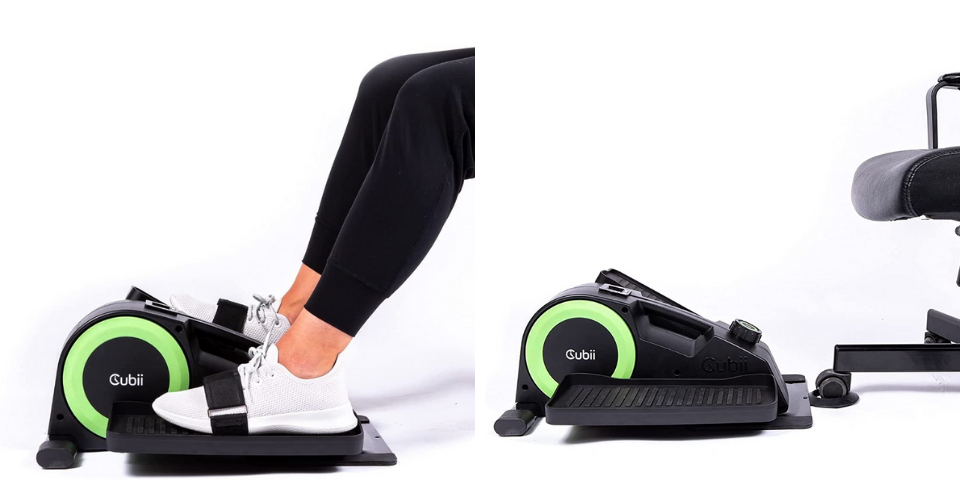 Compared to the Cubii JR, the top-of-the-line Cubii Pro isn't that different. The only thing that sets it apart is Bluetooth connectivity, the lack of a screen (progress is tracked via the accompanying app), and an integrated battery. In other words, the Cubii JR1 and Cubii JR2 pretty much have the best features the brand has to offer, including support for Fitbit and Apple HealthKit. 
The Cubii app itself is an effective way to stay motivated too since you can meet other users, create groups, and even compete with them. You'll also get access to on-demand classes to make sure you get the most out of your machine, as well as set daily fitness goals and get an overview of your progress. However, syncing with the app isn't that reliable, but that's about where their shortcomings start and end, which an over-the-air update can't fix.
Regarding their health benefits, the Cubii JR1 and Cubii JR2 can definitely help you burn some calories off and get in some cardio. However, you have to temper your expectations here. They aren't exactly the best way to shed some weight or build muscle, and they can't replace going to the gym or other exercises like running or cycling. But at the very least, they can help you work up a sweat and get moving even just a little while at your desk.
As mentioned earlier, the Cubii JR2 weighs less than the Cubii JR1. That might not seem that big of a deal at first, but it actually makes a world of difference whenever you move it from under your desk to the couch to watch TV or read a book, for instance. In terms of usage, both deliver a similar experience. They're about as quiet as each other, despite the Cubii JR2 sporting a ZeroGravitii flywheel. But the adjustable foot straps come in real handy to keep your feet secure, especially if you get nice and comfy and pedal mindlessly.
Verdict
The Cubii JR2 is clearly better than the Cubii JR1, but it's not worth the upgrade.
Amazon product
To sum things up, the Cubii JR2 is better in many ways, but if you're coming from the Cubii JR1, it's not worth trading up for. Put differently, its improvements and new features like the adjustable foot straps and lower weight don't warrant an upgrade.
At any rate, you can reap the benefits of a seated under-desk elliptical machine with either one. But considering their price points, keep in mind they're a pretty big commitment.
FAQs
📌 Is Cubii worth the money?
Yes, models like the Cubii JR1 and Cubii JR2 deliver on their promise to add a little more extra physical activity to a busy and sedentary lifestyle. However, they aren't exactly cheap, so some serious commitment is needed.
📌 What's the difference between Cubii JR1 and Cubii JR2?
The Cubii JR2 builds on the Cubii JR1 with a lower weight for better portability, a more ergonomic design for improved comfort, and a ZeroGravitii flywheel for a smooth stride. It also comes with a chair lock instead of two wheel cups.
📌 Which Cubii is the best?
The Cubii Pro is generally considered as the best because of its Bluetooth connectivity, but models like the Cubii JR1 and Cubii JR2 don't really fall behind in features and performance. After all, they track the same metrics and have Fitbit and Apple HealthKit syncing too.
📌 Can you lose weight using Cubii?
Yes, a Cubii can help you burn more calories on a daily basis. However, it should be considered as a complement to the gym or a regular workout routine instead of a "magic weight loss bullet."