The Cricut Explore Air 2 has been around for much longer than the Silhouette Cameo 4 which was only released in 2019. Are the features of the newer Cameo 4 worth shelling out more for? Or are you better off getting the Cricut Explore Air 2 and use the money you saved for more craft tools? We compare their features to help you decide which cutting machine to get in 2020.
Cricut Explore Air 2 vs. Silhouette Cameo 4 Comparison Chart
Model
Cricut Explore Air 2
Silhouette Cameo 4
Price
Check Price
Check Price
Max Cutting Force
400 grams
5000 grams
Max Cutting Size
12″ x 24″
12 in. x 24 in. (mat)
12 in x 10 ft. (roll)
the upcoming Pro and Plus versions will offer bigger cutting sizes
Software
Design Space®
Silhouette Studio®
Blade
Fine-Point Blade
AutoBlade
Double Cartridges
Yes
Yes
Colors
Blue, Cherry Blossom, Lilac, Matte Black, Twilight, Mint, Persimmon, Rose
White, Black, Pink
Bluetooth
Yes
Yes
Cutting Mat
12″ x 12″ LightGrip machine mat
12″ x 12″ cutting mat
Subscription
Free trial membership for Cricut Access
1-month subscription to Silhouette Design Store
Machine Tools
Fine Point Blade
Deep Point Blade
Bonded Fabric Blade
Scoring Stylus
Cricut Pens
Auto Blade
Rotary Blade
Kraft Blade
Punch Tool
Downward Cutting Force & Speed
The Cameo 4 is incredibly more powerful than the Explore Air 2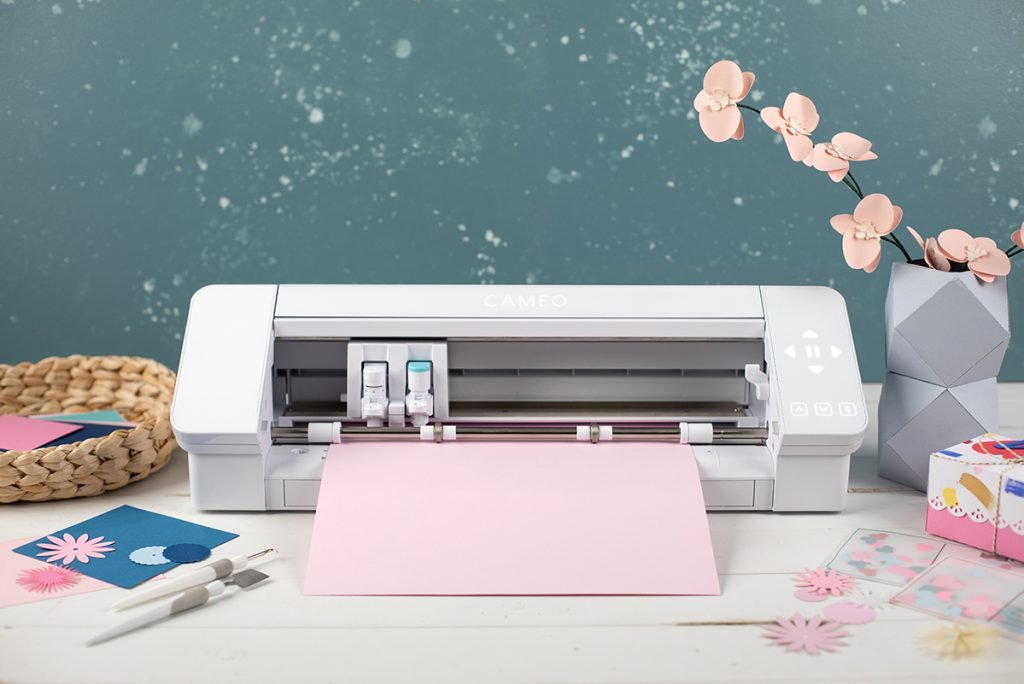 There is almost no point in comparing the two when it comes to cutting pressure as the second carriage of the Silhouette Cameo 4 has a downward cutting force of 5000 grams while the Cricut Explore Air 2 only has up to 400 grams. That is more than 10x the pressure that the Cricut has. This means you can cut fabric, leather, felt, and denser materials such as basswood and balsa wood with precision and ease.
The Explore Air 2 is still a great die cutting machine though if you only want to cut cardstocks, vinyl, iron-on, and thinner stabilized fabric.
Software
Cricut's software is more user-friendly, but Silhouette's allows more flexibility
More advanced designers who prefer using other design software such as Adobe favor the Silhouette Studio as it allows you to create and import your own designs. The Cricut Explore Air 2 only works with its software, the Design Space. With that said, it is worth noting that Design Space already has a vast library to choose from and is more intuitive and user-friendly. You can also use its app if you prefer working on a smart device.
If you design through iOS, you can download your chosen designs and use Cricut's Design Space and print offline. However, if you want to use your desktop or laptop, you need an internet connection to use the cloud-based Design Space. As for Silhouette Studio, you can use it offline without problems.
For those who often use SVG files, the Design Space by Cricut allows you to import them for free. On the other hand, Silhouette Studio requires you to upgrade and pay an extra $50 to be able to do this.
Machine Tools
The Cameo 4 has more compatible tools than the Explore Air 2
With a powerful cutting force, rotary blade compatibility, and adaptive tool, the Silhouette Cameo 4 lets you go wild with designing and cutting. You can definitely do more advanced techniques through the tools compatible with the Cameo 4. Since the Cameo 4 also has an adaptive tool feature similar to the Cricut Maker, the tools that Silhouette will release in the future will work well with the Cameo 4 (check out our comparison of the Cricut Maker and the Cameo 4 here).
On the other hand, the Cricut Explore Air 2 is only compatible with its current machine tools. As it does not have the adaptive tool system that the Cameo 4 is equipped with, Explore Air 2 owners will not be able to benefit from future tools that will be released from Cricut. Notably, the Explore Air 2 is still a premium quality machine that will let you design and cut a wide selection of materials through its available tools.
Exterior Design
The Cricut Explore Air 2 looks sleeker and has more color options
Cricut has continually released stylish cutting machines in a wide array of stunning colors and the Explore Air 2 is no exception. Meanwhile, the Cameo 4 only offers three colors to choose from. Unlike the Explore Air 2 that uses a dial to select your material, the Cameo 4 only has a touch panel to set-up your materials and tools.
The Explore Air 2 has more storage space. It has a pocket for your pens on the side and a tool drawer for other tools at the base. The Cameo 4 also has a sliding tray on the side that can fit an extra blade. What used to be a tool drawer from the Cameo 4's predecessor, the Cameo 3, is not a built-in roll feeder and cross cutter. Cutting rolled materials has just become easier thanks to this feature.
Verdict
The Cameo 4 is packed with features worth your money, but for beginners, the Cricut Explore Air 2 is the better option
Cricut Explore Air 2
Silhouette Cameo 4
There is no question here. The small price difference between the two becomes insignificant when you consider the cutting power, speed, and wider material and tool compatibility of the Silhouette Cameo 4. If you see yourself doing more advanced techniques and working on thicker materials, the Cameo 4 offers incredible value for money.
If you think you will stick to cutting card stocks, vinyls, iron-on, and bonded fabric, the Cricut Explore Air 2 proves to be a solid and more user-friendly option. Since it has also been in the market for much longer, there is more support and more tutorials available online that can help you maximize the features of your Cricut.
You can read our comparison of the Cricut Maker and the Silhouette Cameo 4 here.