Cricut answered crafters everywhere when it released the Cricut EasyPress Mini, which is ideally sized for heat transfer projects on small objects and irregularly shaped surfaces. Read on for our in-depth review of the Cricut EasyPress Mini and see whether you should include one in your list of essential crafting equipment.
Cricut EasyPress Mini Review: Specs and Features
| | |
| --- | --- |
| Model | Cricut EasyPress Mini |
| | |
| Price | Check Price |
| Width | 3.4″ |
| Depth | 2.1″ |
| Height | 4″ |
| Weight | 0.8 lbs |
| Heat Plate | 1.9″ x 3.25″ |
| Heat Settings | Low, Medium, High |
| Temperature Range | 255°F to 400°F |
| Wattage | 150 watts |
| Auto Shutoff | Yes |
| Insulated Safety Base | Yes |
| Color | Raspberry |
Design and Size
The Cricut EasyPress Mini is compact and lightweight.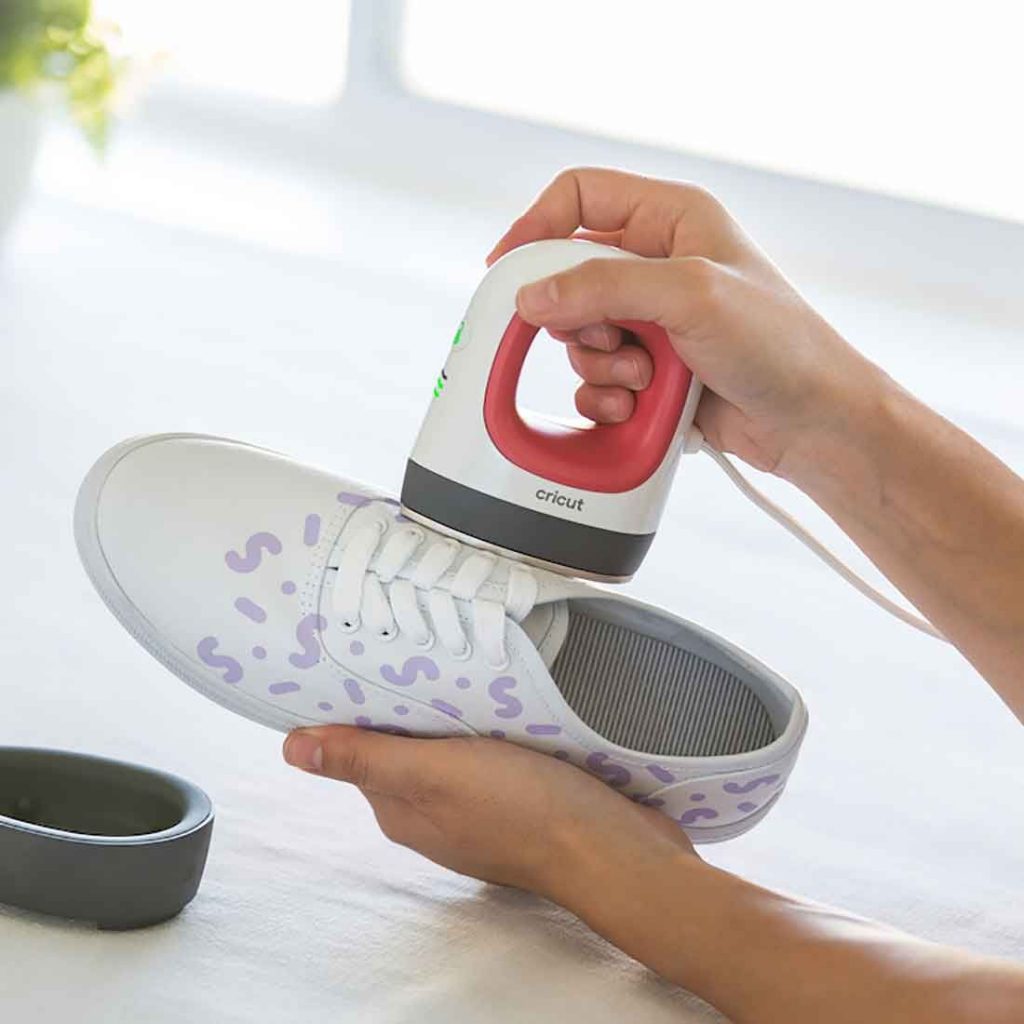 Designed specifically to make small projects easier, the Cricut EasyPress Mini is truly tiny. Its rounded handle is just wide enough for your hand and it's very light too. You'll find that it's shaped just right to be easily guided over non-flat surfaces. Plus, its rounded cubic profile is aesthetically pleasing, and the raspberry accent around its center makes it easy to spot in your workspace.
Underneath, the heat plate is ceramic-coated to provide evenly distributed heat throughout its surface. There's only a single button to turn the EasyPress Mini on and off and to switch between heat settings. Overall, Cricut's mini press is a fantastic example of maximizing the tiny design space available with minimal yet meaningful touches.
Heat Settings
The Cricut EasyPress features three temperature settings for a variety of projects.
Unlike the bigger EasyPress models which display their current temperature, the EasyPress Mini only has three light indicators to show its current heat setting. Pressing the power button will turn it on, and a second press takes it to the Low setting. Additional presses will move it to Medium and High settings. You'll know when the Mini has reached the target temperature when the orange indicator turns green.
Cricut optimized the three heat settings for different base materials and fabrics. Low (255°F – 295°F) is best for delicate textiles and heat-transfer vinyl such as foil. Medium (300°F – 355°F) is intended for most base materials including glitter. High (360°F – 400°F) is only recommended for heavy duty materials and Infusible Ink projects. The entire ceramic plate heats up evenly so it can reach these target levels even at the edges.
Ease of Use
The Cricut EasyPress Mini is very easy to use.
You'll love how easy the Cricut EasyPress Mini is to use, especially if you've been struggling with heat transfer projects on small and oddly shaped objects before. Personalizing hats, shoes, baby clothes, stuffed toys, doll clothes and more becomes even more fun and exciting. Your wrist won't tire since it's so light and it heats up pretty quickly.
There's no timer on the EasyPress Mini so you'll have to use your own. It's designed to be moved throughout the entire design continuously during the heat transfer process. Gliding over surfaces feel smooth thanks to the additional ceramic coating on the heat plate, as well as the ergonomic handle. It's a lot more maneuverable than other mini irons.
Safety Features
The Cricut EasyPress Mini has an auto-off feature and comes with a Safety Base.
Cricut answers some of the most common hazards in using heat presses and traditional irons with a couple of key safety features. The EasyPress Mini will automatically turn itself off 13 minutes after it was last moved. You'll get a beep right before it's about to shut down. It's a highly welcome feature if you tend to be forgetful sometimes or get distracted away from your workspace.
Plus, the EasyPress Mini ships with an insulated Safety Base where you can place the mini press while waiting for it to heat up or preparing your materials. You'll avoid so many burned surfaces as well as singed fingers with this thoughtful addition. Under your constant supervision, it should be safe enough for older kids to use in pressing HTV designs on their stuff by themselves.
Verdict
The Cricut EasyPress Mini is a must-have for small heat transfer projects.
Cricut EasyPress Mini
There's really no way we can stress enough how amazing this compact heat press is for its intended use. Its ergonomic and lightweight design as well as its extra safety features allow the Cricut EasyPress Mini to trump other mini irons with more traditional builds. You'll want it if you're going to be doing a lot of heat transfer projects on smaller items, and the price is entirely justified by how easy it is to use.
Of course, remember that the Cricut EasyPress Mini is a specialist tool, so if you want to work on larger projects you're better off with the bigger presses that Cricut offers.