Owning a griddle has several benefits. Because of their large surface, they're perfect when cooking for a crowd. The flat surface makes it easy to flip food, too. Moreover, griddles are simple to use, durable, and painless to maintain. If you're in the market for one, consider the models from Char-Griller and Blackstone.
Although known for its grills and smokers, Char-Griller also carries a modest lineup of griddles. One of its best-sellers is the 4-burner flat iron gas griddle, which boasts a grease management system and folding cart construction. Blackstone is a newer name in this category, with a catalog focused on griddles, kits, and accessories. Nonetheless, its 36″ griddles have quickly become a favorite among griddle lovers.
Which one is better? Below, we compare the two griddles to find out.
Char-Griller Griddle vs Blackstone Griddle Comparison Chart
| | | |
| --- | --- | --- |
| Model | Char-Griller Flat Iron Gas Griddle | Blackstone Original 36″ Griddle |
| | | |
| Price | | |
| Total Cooking Area | 775 sq. in. | 720 sq. in. |
| BTU | 60,000 | 60,000 |
| Burners | 4 | 4 |
| Griddle | Steel | Steel |
| Grease Management | Front | Rear |
| Fuel | LP Gas | LP Gas |
| Side Tables | Yes | Yes |
| Built-in Ignition | Yes | Yes |
| Dimensions | 63 x 25 x 38 in. | 68.3 x 27.5 x 41.3 in. |
| Weight | 145 lbs | 123 lbs |
Company History
Char-Griller is an established brand for grills and smokers, while Blackstone is a newer name with a focus on griddles.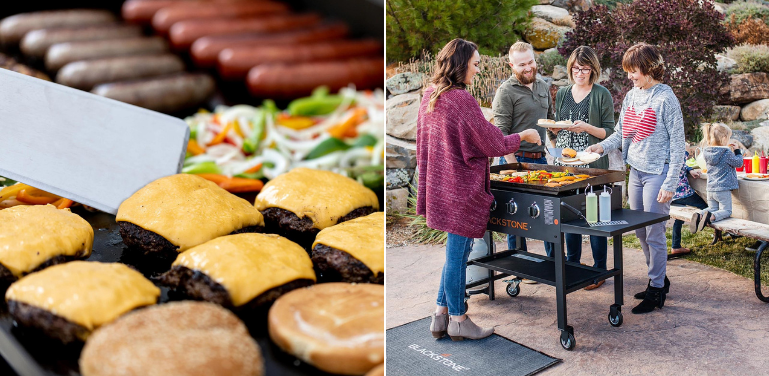 Char-Griller has been around since 1994. Based in Atlanta, it's now one of the most recognized names in gas and charcoal grills and smokers. The company's charcoal barrel-style grill is arguably its best-known offering. However, Char-Griller's catalog has expanded to offer dual-fuel grills, kamados, and griddles.
Founded in 2008, Blackstone is a younger brand. Nonetheless, its product lineup boasts expertly designed griddles in varying sizes. Blackstone griddles also put a premium on functionality and efficiency. Today, they're sold across some of the largest retailers in the country, including Lowe's, True Value, and Walmart.
Griddle Design
Char-Griller and Blackstone's 36-inch griddles are neck and neck when it comes to design.
One of the things Char-Griller emphasizes is durability. Its 36″ flat iron griddle (E8936) boasts a heavy-duty construction and a large stainless steel burner. The burner knobs are also well-built and come with temperature settings. Meanwhile, instructions for lighting the unit can be found on the leftmost of the front panel.
Blackstone's original 36″ griddle sports a fairly similar design. Its cooking surface is also made from steel and is powder-coated in black for a robust, industrial aesthetic. In terms of size, Blackstone's griddle is larger, although the cooking area is smaller than Char-Griller's. Instead, the extra square inches are allocated to the folding side tables.
Mobility-wise, Char-Griller and Blackstone's griddle come with caster wheels. A pair features a lock for stability once you've set up the unit. However, Blackstone also adds handles on the cooktop's side, giving users an option to pull the griddle.
When it comes to storage, the two griddles are tied. Both have an open, under-griddle tray for storing your cooking tools. For the LP gas tanks, you'll also find dedicated slots on the units.
Cooking Power and Area
While both griddles have the same cooking power, Char-Griller has a larger cooking area than Blackstone.
To heat up the griddles, Char-Griller and Blackstone both use stainless steel tube burners. You get four on both units, each capable of creating individual cooking zones. In terms of heating, you get a total of 60,000 BTUs from the griddles. Starting the cooktops is simple. Char-Griller and Blackstone's griddles both come with ignition buttons.
In terms of area, Char-Griller has a slight edge. Its griddle offers 775 square inches of cooking space. In contrast, Blackstone's four-burner unit has 720 square inches. Char-Griller shares that its griddle has enough room for 45 fried eggs. For burger lovers, that's equivalent to 32 patties. Blackstone isn't too far behind. Its griddle can cook up to 28 burgers or 72 hot dogs at once.
Features and Accessories
Blackstone offers more add-on features and accessories for griddles than Char-Griller.
While cooking on griddles is fast and easy, cleaning up can pose a problem. Fortunately, both Char-Griller and Blackstone feature grease trays. Char-Griller places its tray on the front, making it easier to access compared to the rear management system of Blackstone's.
Now, Blackstone's 36-inch griddle comes in two models. With the original, you're getting regular side tables. However, another variant (model 1825) features a side table with a removable cutting board and a paper towel holder. There's also a dedicated opening for garbage bags, with side hooks that make the same bag easy to install.
For those who take their cooking seriously, both brands offer several griddle accessories. Char-Griller, for instance, sells a flat iron griddle starter kit. The kit includes two spatulas, a scraper, and two squirt bottles. Customers can also buy a weather-resistant cover for the unit.
Blackstone, on the other hand, offers tools and cleaning kits. Its best-selling bundle is a 7-piece accessory kit that adds a collapsible baster and a carry bag. The brand's catalog also includes larger, 13-piece bundles as well as a wide variety of griddle tools.
Verdict
Char-Griller and Blackstone's griddles are both solid purchases. However, the Blackstone 36-inch griddle is more readily available at lower prices.
Choosing between the Char-Griller and Blackstone griddle can be a challenge. Both units are sturdy and well-built, with the Char-Griller having the edge in cooking area and Blackstone winning when it comes to mobility. The griddles are also matched when it comes to heating performance. Indeed, any of the two will be a welcome addition to your backyard.
Blackstone does offer more accessories since the brand focuses on griddles. In contrast, Char-Griller has better options outside griddles, like grill and smoker tools. Pricing-wise, the gap between the two isn't considerable. However, Blackstone's offering is more readily available at lower prices across in-store and online retailers.
FAQs
📌 Which Blackstone griddle is the best?
The original 36-inch Blackstone flat iron griddle is still the best model to get. It's reasonably priced and performs well.
📌 Is Char-Griller a good brand?
Char-Griller is a reliable, affordable brand for grills and smokers. Their griddles may not get the same attention as other products but they boast great quality for the price.
📌 How long is the warranty of Char-Griller's 36-inch griddle?
Char-Griller's flat iron gas griddle comes with a one-year limited warranty.
📌 Does the Blackstone original 36-inch griddle come assembled?
No, it doesn't. Blackstone's griddle must be assembled at home.