Have you been thinking of getting a die cutting machine for a while but can't decide which one to get in 2020? We take a closer look at the best-selling cutting machines from three top-rated brands–the Silhouette Cameo 4, Cricut Maker, and Brother ScanNCut SDX 125e. All three have unique capabilities so we lay them all out to help you choose which is the best crafting companion for you.
Cameo vs. Cricut vs Brother (2020): Comparison Chart
Model
Silhouette Cameo 4
Cricut Maker
Brother ScanNCut SDX 125e
Price
Check Price
Check Price
Check Price
Dimensions
22.44 x 7.68 x 6.69 in
21.2 x 5.9 x 7 in
20.9 x 6.8 x 8.5 in
Max Cutting Force
5 kgf
4 kgf
1.26 kgf
Max Media Thickness
3 mm
2.4 mm
3 mm
Max Cutting Size
12 in. x 24 in. (mat)
12 in x 10 ft. (roll)
12″ x 24″
12″ x 24″
Cutting Mat
12″ x 12″ cutting mat
12″ x 12″ FabricGrip™ and LightGrip machine mats
12″ x 12″ adhesive mat
Software
Silhouette Studio®
Design Space®
CanvasWorkspace
Connectivity
Bluetooth
Bluetooth
Wi-Fi
Subscription
1-month subscription to Silhouette Studio
Free trial membership for Cricut Access
No need for a subscription
Colors
White, Black, Pink
Blue, Lilac, Champagne, Mint, White, Rose
Gray and Blue
Included Tools
AutoBlade 2
Rotary Blade, Fine Point Blade, Fine Point Pen
Auto Blade, Spatula, Stylus
Optional Compatible Tools
Rotary Blade
Kraft Blade
Punch Tool
PixScan Technology
Scoring Wheel
Engraving Tip
Debossing Tip
Perforation Blade
Deep Point Blade
Wavy Blade
Thin Fabric Auto Blade, Roll Feeder, Trimming Cutter
Unique Feature/s
PixScan Technology and built-in roll feeder and crosscutter
Built-in tool tray and a vast library of sewing patterns
Built-in scanner with on-screen editing
Downward Cutting Force & Speed
All three machines are fast, but the Cameo 4 has the most cutting power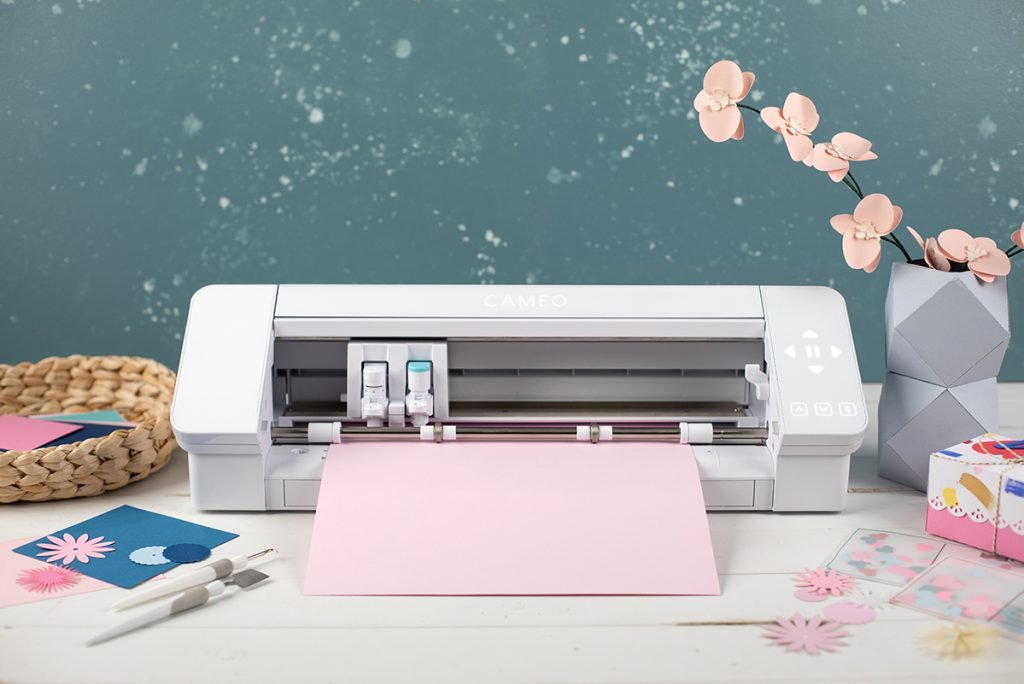 The precision and the thickness of the material you can cut will depend on your machine's cutting force and blade. Out of the three machines, the Silhouette Cameo 4 has the most cutting power at 5 kgf. With a cutting force of 4 kgf, the Cricut Maker is still an incredibly powerful machine. However, the difference between their pressure will not be that noticeable unless you frequently cut dense materials. Brother's ScanNCut has the least cutting force, so unlike the other two, it cannot cut thicker fabric.
All three machines can cut materials such as balsa wood, fabric, chipboards, and more. Both the Silhouette Cameo 4 and the Brother ScanNCut can cut up to 3mm-thick materials while the Cricut Maker can only cut up to 2.4mm when using the separately sold knife blade.
Software: Ease of Use
Cricut's is the most user-friendly while Brother's has the highest learning curve
A lot of time is spent on designing your craft, so the software plays a big role when choosing your cutting machine. The software used by these three different machines has a mix of their own upsides and downsides.
Cricut Maker's Design Space is hands down the most intuitive and beginner-friendly of the three. Something unique about its software is it automatically sorts out the different colors for you when printing. Silhouette Studio and CanvasWorkspace have a higher learning curve, but they eventually become easier to use over time. Something to note though is Brother's CanvasWorkspace tends to shrink the images you import and does not retain the original size.
Although Cricut's Design Space is the most user-friendly, it comes with limitations. You need an internet connection to be able to use it on your computer. The offline version can only be used when using the app on the iOS. If you have unstable internet at home, this can cause a problem. This is not a problem for both Brother and the Silhouette Cameo because the software can be downloaded and used offline.
Software: Designing Capabilities
The Cameo's Silhouette Studio and Brother's CanvasWorkspace have better designing capabilities and allow more advanced editing
Cricut may have the biggest library of fonts, images, and designs, but it can only be used with Design Space. Silhouette Studio and Brother's CanvasWorkspace offer more flexibility and better editing capabilities. If you are a more advanced designer, you will love the freedom to design or the option to use your preferred software.
Silhouette Studio has a wider selection of fonts, images, and projects than Brother's CanvasWorkspace. However, a disadvantage of Silhouette Studio is you need to upgrade to its business edition and pay $50 to be able to import .svg files. You can do this for free with Cricut's and Brother's software.
Meanwhile, the Brother ScanNCut has 682 built-in designs and limited font options. The upside is that you can use them without paying for a subscription. ScanNCut is further equipped with a built-in scanner so you can scan your images and use them as your cut file. If you like drawing or sketching, this feature will be extremely useful.
Scanning Capabilities
Only Brother ScanNCut has a built-in scanner
As mentioned earlier, the Brother ScanNCut has a built-in, high-resolution scanner. Once you have scanned your image, you can cut, draw, emboss or foil using the attached 5-inch LCD screen and stylus. You can also access Brother's built-in design and play with your image design without having to use a computer or tablet.
The Silhouette Cameo 4 does not have a built-in scanner, but it is PixScan compatible. Through Silhouette's PixScan technology, you can place your sketch or any other image on the PixScan mat (sold separately), capture it, import to Silhouette Studio, and add cut lines. The same goes for the Cricut Maker where you have to take a picture of your sketch and upload it to Design Space.
Machine Tools
The Cameo 4 and Brother ScanNCut can cut rolled materials and have an auto blade sensor, but the Cricut Maker has more available and compatible tools.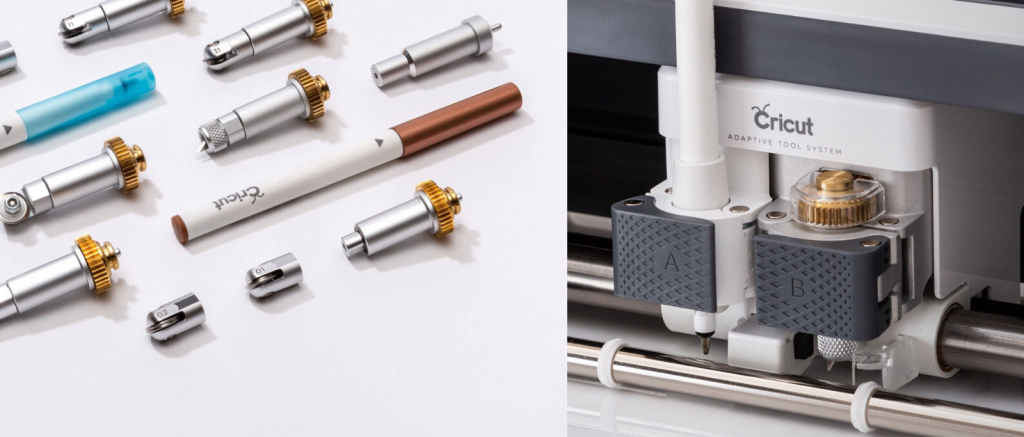 If you tend to cut rolled materials (such as rolled vinyl) often, you will love the roll feeder of the Cameo 4 and the Brother ScanNCut. This feature lets you create longer designs without the hassle of having to cut your material to fit the mat.
Among the three machines, Cricut offers the most compatible tools for its cutting machine. From the Double Scoring Wheel to the Wavy Blade, Cricut keeps expanding its arsenal of creative tools to enhance your crafting experience. Its Adaptive Tool System will let you enjoy the future tools Cricut has yet to release.
The Cameo 4 also has tool adapters that let you use your tools from the older Cameo models. Similar to Cricut's adaptive tool system, you can use more tools that will be released for this cutting machine. However, since the Cameo 4 was only released in 2019, we have yet to see more tools to be released by Silhouette to fully maximize the features of the Cameo 4.
Unlike the Cricut Maker, the Silhouette Cameo 4 and Brother ScanNCut are equipped with the Auto Blade which detects your materials and tools and makes the necessary adjustments for you. It is important to note though that there have been some issues with Brother cutting through the mat so still be extra careful with the settings and perhaps buy extra mats while you're still learning.
Verdict
The Silhouette Cameo 4 offers the most value for your money, the Cricut Maker is the most user-friendly and has the most tool and material options, while the Brother ScanNCut SDX 125E is great for those who do not have a tablet or computer to design with.
Cameo 4
Cricut Maker
Brother ScanNCut
Take our verdict with a grain of salt because, at the end of the day, it all boils down to your specific crafting needs.
The Silhouette Cameo 4 overall gives the best value for your money. It features significant upgrades from its predecessor, the Cameo 3. Despite being the most affordable of the three, it has the most cutting power, software with advanced editing capabilities, decent tool options to choose from, and its PixScan technology lets you do what the built-in scanner of Brother can. However, as the Cameo 4 is still fairly new, the tools are still limited and expect to experience some bugs and hiccups while using your machine.
For crafters who are happy with using the available designs of the software and don't need the extra 1kgf of cutting force, the Cricut Maker still offers the smoothest user experience. It has been in the market longer so most bugs have been fixed and it offers more tools for you to use and maximize your machine's features. With that said, it can get expensive. Just the Cricut Maker itself already has a much higher price tag than the Cameo 4. You also need to pay for tools, accessories, and subscription if you want access to their library of designs.
As for the Brother ScanNCut, it is the perfect stand-alone machine for those who do not have a tablet or computer to design with. As Brother's CanvasWorkspace has limited designs, the ScanNCut SDX125E is perfect for stampers, quilters, or artists who typically scan their designs and print them.