Bosch and DeWalt are two of the most trusted power tool brands today. We compare their top-selling wood router kits, the Bosch 1617EVSPK Router Combination Kit and the DEWALT DW618PKB Router Combo Kit to help you decide which routing tool will best fit your needs. If you're on the hunt for a versatile fixed and plunge-based router combo kit for woodworking, this detailed comparison will be useful as you choose which routing kit to add to your workshop.
Deal Finder
Bosch vs DEWALT Router Kit Comparison Chart
Model
Bosch 1617EVSPK Wood Router Tool Combo Kit
DEWALT DW618PKB EVS Router Combo Kit
Price
Check Price

at Walmart

Check Price

at Amazon

Dimensions
6″ x 11.5″ x 11.6″
21.9″ x 6.9″ x 12.6″
Weight
18.2 lbs
16.55 lbs
Motor Amperage
12 Amp
12 Amp
Horsepower
2.25HP
2.25 HP
Soft Start Technology
Yes
Yes
Variable Speed
8,000 to 25,000 RPM
8,000 to 24,000 RPM
Self-Releasing Collets
1/4″
1/2″
1/4″
1/2″
Fixed Base Adjustment Increments
1/64″
1/64″
Plunge Depth
2.25″
2.5″
Wrench
16 mm Shaft Wrench
24 mm Collet Nut Wrench
Yes
Dust Collection
No
Yes, on Plunge Base
Kit Box/Carrying Case
Yes
Yes
Warranty
1-Year Limited Warranty
1-Year Free Service
3-Year Limited Warranty
Design and Ease of Use
Both Bosch and DEWALT routers are handy, well-built and thoughtfully designed, but Bosch made changing bases a step easier than DEWALT
If you are looking for sturdy and reliable router kits for your workshop, you can't go wrong with Bosch and DEWALT's routers. Their routers are durable, well-built, and can handle their powerful motors. Both also come with a variable speed dial that's easy to manage.
However, Bosch's design is slightly better than DEWALT's as the Bosch 1617EVSPK is made of commercial-grade material that can last for years and years. Its wooden handles on its fixed-base router don't only look premium but prove to be comfortable to use as well. However, others prefer DEWALT's rubber molded handles as they feel they are more secure to hold. Bosch's plunge-based router also comes with bigger soft-grip handles than DEWALT's, thus offering better control.
When it comes to changing from one router base to another, Bosch's quick clamp mechanism for its motor is quick and easy. While moving DEWALT's motor from its fix-based router to its plunge-based router is straight forward, you need to remove the black and yellow adjustment ring attached to the motor before you attach the motor to the base.
Power, Performance and Precision
While both have the same amperage and horsepower, the Bosch can reach a speed of up to 25,000rpm while the DEWALT router's peak speed is 24,000rpm
Boasting 2.25 HP and an amp rating of 12, both the Bosch and the DEWALT combo router tool kit deliver impressive power and speed. You can work on an array of woodworking projects with ease using either router kits.
With that said, the Bosch 1617EVSPK has a slight edge as it can generate an RPM of up to 25,000 compared to the DEWALT DW618PKB's 24,000rpm. Both routers are equipped with a dial for adjusting the electronic variable speed starting from 8,000rpm. This lets you adjust the speed depending on the wood type you're working on. Both routers also feature a soft start technology that reduces start-up torque for better control. For example, you set the speed to 24,000rpm, your router can slowly work its way to reach that speed instead of firing to 24,000rpm right away.
Deal Finder
DEWALT DW618PKB Router
The DEWALT DW618PKB Router Combo Kit features a soft start for its 2.25 HP 12 Amp variable speed motor, giving you power and fine control to rout through any hardwood.
Check Price on Amazon
Check Price on Walmart
We are reader supported. When you buy through our links we may earn an affiliate commission.
For better depth precision, both the Bosch 1617EVSPK and the DEWALT DW618PKB routers have a microfine bit-adjustment. You can adjust depths in increments of 1/64 inches. This feature, together with the adjustable speed settings, will ensure your woodwork is as precise as can be.
Plunge-Based Router
The Bosch 1617EVSPK router delivers smoother action while the DEWALT DW618PKB offers slightly better plunge depth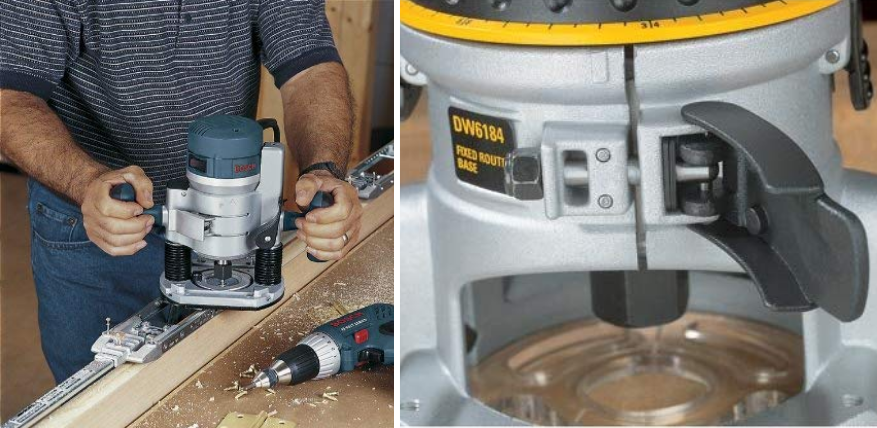 A plunge-based router offers better versatility than the fixed-base router. The Bosch 1617EVSPK trumps the DEWALT router when it comes to their plunge base's guiding features and smooth routing action. Thanks to its dovetail fixtures, jigs, and other templates, you can follow your desired cutline with ease. Its plunge base has an adjustable depth of up to 2.25-inch so you can work on various wood types without issues.
The DEWALT DW618PKB offers a slightly better range of plunge stroke as it has a maximum depth of 2.5-inch. For more accurate plunge strokes, the DEWALT comes with steel guide rods and brass bushings. Its adjustable turret stops work great for repeated plunge strokes as well.
Additional Features
The DEWALT DW618PKB fixed base comes with a dust collection feature; both the Bosch and the DEWALT routers include 1/4″ and 1/2″ collets.
Both the Bosch 1617EVSPK and the DEWALT DW618PKB router come with 1/4-inch and 1/2-inch self-releasing collets. The Bosch also comes with two wrenches that you can use to attach and detach the collets. While the DEWALT only has one wrench included in its box, its routers come with a spindle lock so you only really need one wrench to adjust the shanks. This is slightly easier than the Bosch that requires two wrenches to make tighten and loosen the shanks.
A very helpful feature that comes with the DEWALT DW618PKB's plunge base is its integrated dust collection system. It sucks the dust well even when going through the same area for succeeding passes. Expect to still see some sawdust in the crevices, but the DEWALT's dust collection works great.
The Bosch 1617EVSPK router doesn't come with its own dust collection mechanism. However, compatible dust hoods can be purchased separately. If you don't have a dust collection hood installed with your Bosch router, make sure you're wearing the appropriate protective gear for your face.
Another difference between the two routers is the Bosch 1617EVSPK comes with a hard-case plastic toolbox while the DEWALT DW618PKB includes a cloth carrying bag. If you want a hard case to go with your DEWALT combo router kit, you can go for the DW618PK instead.
Verdict
For its durability and better motor, the Bosch 1617EVSPK is better for those who need the router for professional woodworking; for occasional use, the DEWALT DW618PKB offers great value for your money
Deal Finder
Deal Finder
DEWALT DW618PKB Router
The DEWALT DW618PKB Router Combo Kit features a soft start for its 2.25 HP 12 Amp variable speed motor, giving you power and fine control to rout through any hardwood.
Check Price on Amazon
Check Price on Walmart
We are reader supported. When you buy through our links we may earn an affiliate commission.
Both the Bosch and the DEWALT are reliable, versatile combination router kit that offers great value for your money. If you will use the router professionally, the Bosch 1617EVSPK is the better choice for you despite its hefty price tag. Its better motor and durable materials are designed even for commercial use.
On the other hand, if you will only use the router for occasional woodworking projects, the DEWALT DW618PKB is a worthwhile, cost-effective purchase. Even though it's at a lower price point, it doesn't sacrifice quality, power, and precision. Its dust collection hood and deeper plunge depth are added bonuses, too.