While podcasts are an accessible and portable way to get entertained, to kill time, or to learn something new, the lack of a video element can at times be a restriction. Humans, after all, are visual creatures. We love to see faces and make sense of expressions. This is part of the reason why video podcasts have become increasingly popular, too. With a video element, you gain access to a larger audience who consume video content — just think of YouTube.
If you're planning to start your own video podcast soon, you're probably looking for the right gear. Here, we take a look at the most recommended webcams for podcasting: the Vitade 960A, Logitech C922 Pro Stream, Logitech Brio 4K, and the Microsoft LifeCam Studio. Keep reading below to see which device best suits you.
Best Webcam For Podcasts Comparison Chart
Model
Vitade 960A
Logitech C922 Pro Stream
Logitech BRIO 4K
Microsoft LifeCam Studio
Amazon product

Deal Finder

Amazon product
Amazon product
Price
Amazon product

Deal Finder

Amazon product
Amazon product
Why You Should Get It
Budget-friendly full HD webcam with inbuilt ring light
Full HD streaming plus free 3-month XSplit license
Premium 4K Ultra HD webcam with HDR
Solid HD webcam which can rotate 360-degrees
Resolution
1080p/30fps
1080p/30fps
720p/60 fps
4K/30fps
1080p/30 or 60 fps
720p/30, 60, or 90 fps
1080p/30fps
Field of View
80º
78º
90°/78°/65°
75º
Built-in Mic
Dual wideband mic
2 omni-directional mics
2 omni-directional mics
High-fidelity microphone
With Tripod
No
Yes
No
No
Compatibility
Windows 7, 8, 10
macOS 10.6 or later
Chrome OS
Windows 7, 8, 10 or later
macOS 10.10 or later
Android v 5.0 or above
Chrome OS
Windows 7 or later
macOS 10.10 or later
Windows 7 or later
macOS 10.7 or later
Warranty
30-days money back guarantee and 12-months warranty
1-year limited hardware warranty
3-year limited hardware warranty
3-year limited warranty
Vitade 960A
An affordable webcam with inbuilt ring light and noise-canceling mics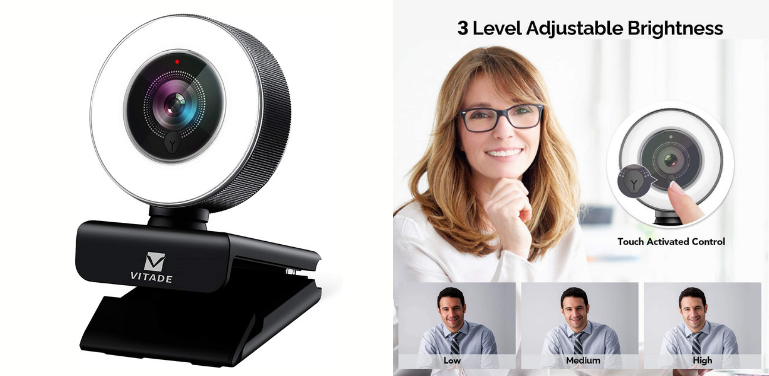 The Vitade 960A is one of the best webcams you can get for under $80. For its price, the device even comes with a built-in ring light. This allows you to turn a drab video setup into a professional-looking one instantly. The ring light's brightness is adjustable across three levels, too, using a convenient touch-screen control panel on the device. And even for a budget webcam, sound quality is surprisingly good thanks to the dual wideband mics with noise-canceling features.
While the Vitade 960A does offer full HD at 1080p, resolution drops to 720p if you opt for a 60fps frame rate. It shouldn't be a huge problem since at 720p the video quality is good enough when streaming on a mobile device. But if you're fussy about HD, the drop in resolution becomes noticeable on a larger viewing screen.
First-time video podcasters will definitely appreciate how easy it is to use this plug and play webcam. Set up and installation takes only a few minutes. Moreover, it's compatible with both Windows and macOS. Finding the right angle is pretty straightforward as well. The Vitade 960A comes with a universal clip you can mount on your laptop, desktop, or standard tripod.
Logitech C922 Pro Stream
A full-HD webcam dedicated for serious streamers on Twitch or YouTube.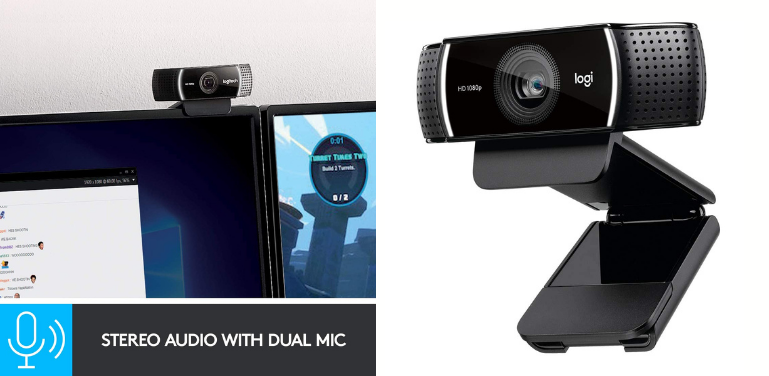 For fluid and crisp videos, you can't go wrong with the Logitech C922 Pro Stream. In terms of features, however, it's actually pretty close to another Logitech favorite, the C920. But with the C922 Pro Stream, you get a device that's more dedicated for streaming platforms. The webcam comes bundled with a 3-month XSplit Premium License so you can stream straight to YouTube and Twitch while having access to a range of recording and live streaming features.
Logitech's C922 Pro Stream also boasts a full-HD glass lens and 1080p max resolution. Like the Vitade 960A, 60fps is only available at 720p. But the C922 does a better job at keeping the image quality sharp and high-def. Compared to other Logitech webcams, the C922 also performs better in low-light conditions. So if you're planning to video podcast in dim environs, this one's for you.
Audio quality is just decent, however. You get two microphones flanking either side of the C922's camera. The result is minimal ambient noise and a stereo effect that's actually quite clear. But it's not professional-grade either. A dedicated headset or standalone microphone will still give you better results for podcasting.
Logitech Brio 4K
A premium webcam that offers 4K ultra HD video and superb sound quality
Podcasters with deep pockets, on the other hand, might be willing to splurge on something more premium like the Logitech Brio 4K. It's a webcam that takes video resolution seriously. Aside from delivering 4K ultra HD video, you can opt for 1080p at 30fps and 60fps. You can also go for 720p resolution at 30, 60, and even 90fps. The result is smooth and clear video quality with outstanding detail.
Among the webcams in this list, the Logitech Brio offers the widest field of view at 90º. This wide-angle is particularly useful if you want to showcase more of your environment or if you're welcoming a guest to your podcast. Thanks to the RightLight 3 and HDR technology, the Brio also manages to perform consistently across varying light conditions — whether it's low light, natural light, or even indoor, fluorescent lighting.
For a webcam, the sound quality is pretty impressive, too. The dual omnidirectional microphones on the Logitech Brio do a great job canceling out background noise. As a result, you get clear and natural sound even when recording in clattering environments. At times it would even feel like the Brio can take the place of a standalone headset.
Microsoft LifeCam Studio
A webcam for business and pleasure that can rotate 360-degrees
Although marketed for business, the Microsoft LifeCam Studio is a high-def cam that you can also use for podcasts. The $99.95 webcam is the best offering of Microsoft's lineup of LifeCam products, offering a 1080p resolution where the LifeCam HD-3000 and LifeCam Cinema are limited to just 720p. Like its siblings, however, the LifeCam Studio also boasts a 16:9 video format for cinematic video recording.
Among streamers, the LifeCam HD-3000 is more popular thanks largely to its affordability. But the LifeCam Studio's features more than make up for the price hike between the two models. Microsoft's top-of-the-line webcam comes with TrueColor technology with face tracking, so the focus is always on the content creator. It can also rotate 360-degrees so you can give your audience an all-around view.
The LifeCam Studio comes with a wideband microphone that fairs decently in quieter environments. But in busy, chatty rooms, a fair amount of background noise is still picked up. The 1080p full HD recording also requires users to download third-party software to be used, an extra step that could prove cumbersome to some users.
Verdict
Among these four webcams, the Vitade 960A and Logitech Brio 4k are our budget and premium choices, respectively.
Amazon product
Investing in a high-quality webcam is a must for video podcasting. Smooth, clear, and high definition videos can strongly influence how your viewers and listeners enjoy the content you put out. Out of the webcams in this list, however, the Vitade 960A and Logitech Brio 4K offer the best features for their respective price points.
With the Vitade 960A, you get a budget webcam that sports an inbuilt ring light. It's an affordable and easy way to upgrade your setup to something more professional. Speaking of professional, however, it's hard to beat the superior video quality of the Logitech Brio. While 4K video recording may not be practical or useful most of the time, even the other HD resolutions offered by the webcam is impressive. If you plan to do video podcasting for the long run, the Logitech Brio 4K is worth every penny.
FAQs
📌 What is the best webcam for podcasting?
The Logitech Brio 4K Ultra HD is currently the best webcam for video podcasting.
📌 Does the Logitech C922 Pro Stream come with a tripod?
Unlike other webcams, including those from Logitech, the Logitech C922 Pro Stream includes a tripod in the package.
📌 Is the Microsoft LifeCam Studio also good for business?
The Microsoft LifeCam Studio is designed primarily for business use and comes certified for Windows and Skype for Business.
📌 Does the Vitade 960A come with a privacy cover?
Now, the Vitade 960A does not have a built-in privacy cover.