Despite all the improvements and innovations that Apple has brought to the Mac, it is quite the letdown for Apple to equip even its newest Mac with the outdated 720p FaceTime HD camera. While the 1080p webcam in the iMac Pro is an improvement in this department, it's a disappointing reality that most Mac products are equipped with an old camera. If you don't use the iMac Pro but could benefit from a better webcam, your only choice is an add-on. 
There are many alternatives available in the market that will satisfy your needs far better than an outdated 720p webcam. There's the future-proofed Logitech Brio which features 4K resolution. There's also the Logitech C920, which has cemented its place as one of the most reliable webcams for almost nine years, and even a budget-friendly alternative in the Wansview 1080p that provides a vastly better webcam experience than the built-in Mac webcam at a very low cost.
Best Webcam For Mac Comparison Chart
Model
Logitech Brio
Logitech HD Pro C920
Wansview 1080p
Amazon product

Deal Finder

Amazon product
Price
Amazon product

Deal Finder

Amazon product
Resolution/Frame Rate
4K at 30 fps,
1080p at 30 or 60 fps,
720p at 30, 60 or 90 fps
1080p at 30 fps
720p at 30 fps
1080p at 30 fps
Field of View
65°, 78°, 90°
78°
90°
Autofocus
Yes
Yes
No
Light Correction
RightLight 3
RightLight 2
Yes
Noise-Cancellation
Yes
Yes
Yes
Microphone
Stereo, dual Omni-directional
Stereo
Stereo
Logitech Brio
The ultimate 4K webcam.
The Brio is among Logitech's most advanced webcams. This webcam features high-quality hardware that delivers 4K Ultra HD videos at 30 fps, 1080p at 30 or 60 fps, and 720p at 30, 60, and 90 fps. The Brio also features Logitech's RightLight 3 which automatically adjusts the image depending on your lighting conditions and supports HDR for bright and bold colors even in dim environments.
This remarkable piece of technology showcases its versatility by giving you three field of view presets to choose from (65, 78, and 90 degrees) to properly frame your video. Regardless of which FOV setting you select, you can also get up close and personal with its 5x HD zoom feature.
The Brio also features noise-canceling omnidirectional mics that capture your voice naturally without enhancing background noise.
A premium webcam such as the Brio also comes with a premium price tag. While most apps do not yet support 4K input, setting this webcam to 4K will be more suited for video recording or live-streaming, provided you have a strong enough bandwidth. Unlike the other products mentioned in this article, the Brio is future-proofed with a USB 3.0 interface. Keep in mind that you'll only be able to use 4K with a USB 3.0 port. Whether you're creating video content or you just want to be seen as clearly as possible in video conferences, the Brio is certainly one of the best with all of its advanced features.
Logitech HD Pro C920
The ideal webcam.
Almost 9 years after the Logitech C920 was released, it's still one of the best webcams today. This has been the webcam of choice for many years and for good reason.
The C920 captures up to 1080p resolution at 30 fps, features snappy and accurate autofocus technology, has a 78-degree field of view, and delivers realistic sound capture with its dual-mic stereo audio. With sufficient lighting, the C920 delivers amazing clarity and details with vibrant colors. Even under low-light conditions, the C920 is no slouch with its RightLight 2 technology that automatically adjusts to your lighting conditions by pulling in more light in dimmer environments and less light when it's bright.
This webcam also brings a noise cancellation feature that captures your voice clearly and loudly, giving off a natural sound as it amplifies your voice and cancels out ambient noise.
The C920 is not as advanced as the latest offerings from Logitech, but you are still getting a good quality webcam for a reasonable price. At 1080p, this webcam will certainly be a much-appreciated upgrade to your onboard Mac webcam.
Wansview 1080p Webcam
The best budget webcam.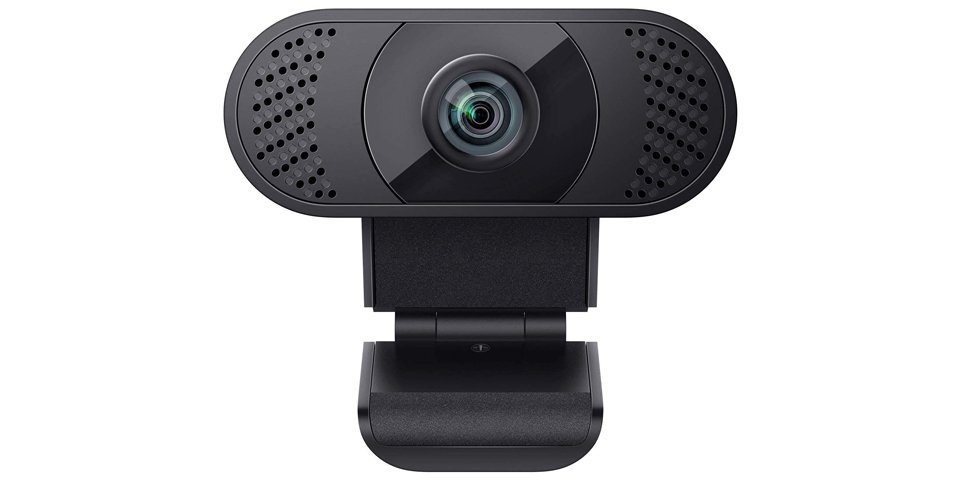 The Wansview 1080p Webcam is evidence that the best webcams for Mac aren't always expensive.
The Wansview is a solidly built webcam for its price. It outputs 1080p videos at 30 fps with clear, bright, and crisp pictures even in different settings as it's capable of automatically adjusting the white balance of the image in either dim or bright environments. It can capture a wide field of view at 90-degrees, although you will notice some rounded corners on the edges of the frame. It also features a manual focus lens instead of autofocus. This means that you may have to set-up your camera focus before jumping into your video call or starting your recording.
This webcam features a stereo microphone that has subject recognition, allowing it to filter out background noises while amplifying your voice as you speak.
The Wansview webcam is a very capable webcam at a very low price. If you need a good quality webcam on a tight budget, the Wansview will not disappoint.
Verdict
All three webcams cater to different needs. The Logitech Brio is for those looking for a future-proofed webcam, the Logitech C920 is for those looking for a great all-around webcam while the Wansview 1080p is for those on a budget.
Amazon product
Based on its features alone, the Logitech Brio is one of the most advanced webcams at the time of writing. It is a pricey add-on for sure, but considering that webcams with 4K support are still somewhat a niche market and that it's future-proofed with support for USB 3.0 and USB-C, you would get a lot of value from this webcam down the line. If you need the 4K support now, the Logitech Brio is a fine choice.
If you need a reliable, good quality, all-around webcam, you can't go wrong with the Logitech C920. This camera has been among the top choices for Mac webcam alternatives for many years with good reason. It takes sharp and quality images and videos and is an ideal webcam for most situations. This webcam is quick to set up and very easy to use right out of the box. It is one of the best webcams you can get.
If you're on a tight budget, the Wansview 1080p is an inexpensive alternative to your Mac's built-in webcam. It's not going to be the perfect webcam at this price, but with its 1080p support that delivers clear and vibrant images and videos even in dark environments, this webcam is an impressive upgrade.
FAQs
📌 Are the Logitech webcams compatible with Mac OS?
Yes. The Logitech webcams are compatible with Mac starting at macOS 10.10.
📌 Can these webcams be used with Thunderbolt 3 ports?
Yes. Provided that you have a USB to Thunderbolt 3 adapter. The Thunderbolt ports are compatible with USB devices or cables through an adapter.
📌 Is the Logitech Brio worth it?
Yes. Although not many apps on the Mac OS support 4K input yet, the Brio is built to address the 4K video capture demand in the future. You can see this in the way it supports USB-C. The 4K input is not the only thing that makes the Brio great. There is also support for multiple resolutions and viewing angles as well. All of these great features, the 4K support, and future-proofing makes this device worth it.
📌 How to choose the best webcam?
The best webcam would have to be one that satisfies the needs and demands of its users. It should also deliver good and consistent performance in the following areas: Resolution, frame rate, field of vision, compression, light, color and focus adjustments, and microphone and software support. In addition to these, the best webcam should also be easy to use.