Yes, for less than $200, you can actually buy a decent espresso machine that can bring out the home barista in you. At this price point, there are several noteworthy espresso machines that either have automatic one-touch interfaces or traditional manual pulls. All of them will produce smooth, rich-tasting espresso with plenty of crema. Check out our list of the best espresso machines under $200: Mr. Coffee Café Barista, De'Longhi 15 Bar Espresso Machine, Nespresso Vertuo Next, Brewsly 15 Bar Espresso Machine, and Hamilton Beach Espresso Maker 40792.
Best Espresso Machines Under $200 Comparison Chart
Model
Mr. Coffee Café Barista
De'Longhi 15 Bar Espresso Machine
Nespresso Vertuo Next
Brewsly 15 Bar Espresso Machine
Hamilton Beach 40792
Price
Check Price
Check Price
Check Price
Check Price
Material
Stainless steel, Plastic
Aluminum, Stainless steel, Plastic
Plastic
Stainless steel
Plastic, Stainless steel
Pump
15 bar
15 bar
n/a
15 bar
15 bar
Wattage
1040 W
1100 W
1260 W
1350 W
1350 W
Water Tank
Removable
Removable
Removable
Removable
Removable
Milk Tank
Removable
None
None
None
None
Milk Frother
Automatic
Manual
None
Manual
Manual
Operation
Automatic
Manual
Automatic
Manual
Manual
Accessories
Tamper
Filters x2
Tamper/scoop
None
2-in-1 filter holder
Tamper with measuring scoop
Filters x2
Dimensions
11.22 x 8.86 x 12.6 inches
9.62 x 7.25 x 11.87 inches
16.9 x 5.5 x 12.4 inches
13 x 6.7 x 12 inches
12 x 9.6 x 11.6 inches
Weight
10.37 lb
No
12.57 lb
8.16 lb
9.37 lb
Mr. Coffee Café Barista
Semi-automatic espresso, cappuccino and latte maker
The Mr. Coffee Café Barista stands out in this list for being the only one with an integrated automatic milk frother, allowing it to create espresso, latte and cappuccino drinks at the touch of a button. As a semi-automatic espresso machine, it's fantastic for aspiring home baristas who want to experiment with different recipes, and it's perfect for the busy folk who simply want a good cup to fuel their mornings or evenings.
Though it doesn't have the standard pump system of most traditional espresso machines, the Mr. Coffee Café Barista still has a 15-bar pump that's almost mandatory to extract bold and rich flavors from your brew. Both water and milk tanks are removable for easy refilling, and you can store the milk reservoir in the fridge so leftover amounts aren't wasted. The one-touch control panel lets you choose from single or double shots, and it also has a self-cleaning cycle to keep your brews tasting great.
Pros:
Easy to use with one-touch controls
Automatically froths milk
Can create various coffee recipes
Adjustable drip tray for cup sizes
Self-cleaning cycle
Cons:
Requires proper cleaning and prep to perform perfectly
Some might prefer manual espresso machines
De'Longhi 15 Bar Espresso Machine
With advanced cappuccino system
Novice and intermediate baristas who want to improve their skills will want a manual espresso machine, for which the De'Longhi 15 Bar Espresso and Cappuccino Machine would make a good candidate. It can make espresso, latte and cappuccino in single or double shots via the professional 15-bar pressure pump. Its Advanced Cappuccino system can maintain optimal temperatures for cup after cup goodness.
The De'Longhi ECP3120 features a 3-in-1 filter holder that can accommodate single and double espresso shots as well as easy-serve espresso pods. The manual frother creates rich and creamy froth, resulting in delicious coffee with easily identifiable components. Note, however, that it will take practice to pull the perfect shot manually. The ECP3120 is one of the most compact espresso machines in this range, letting you save space on your countertop, plus it's easy to clean with dishwasher-safe parts.
Pros:
Three-in-one filter holder
Professional 15 bar pump
Can create various coffee recipes
Maintains optimal temperature
Compact size
Cons:
Manual pulls require correct timing
Steaming pitcher not included
Nespresso Vertuo Next
Fully automatic coffee and espresso brewing system
If you're not familiar with the Nespresso line of espresso machines, you're in for a treat. That is, if you also want an espresso machine that does everything for you. The Nespresso Vertuo Next is one of the latest models from the brand, featuring its signature automatic brewing system using VertuoLine coffee capsules. You simply fill the water reservoir, pop one of these capsules in, and press a button to get a consistent and delicious cup of coffee. The used capsule is auto-ejected, too, so the machine is ready for the next cup immediately.
The Vertuo Next is also one of the most compact machines with a very slim fit design. You can choose from a wide range of coffee flavors and sizes, with pods for 5 oz., 8 oz., and 14 oz. cups. Each coffee capsule has a barcode that tells the machine the exact brewing settings, so you get the perfect blend of silky crema on top of great-tasting coffee. You'll get a welcome set of 12 capsules so you can try them out before ordering your favorites.
Pros:
Automatic brewing system
Quick serve with one-touch interface
No guess-work needed for every shot
Wide range of capsule flavors to try
Cons:
Not for the aspiring barista
Nespresso pods can be pricier than beans
Brewsly 15 Bar Espresso Machine
Stainless steel compact espresso maker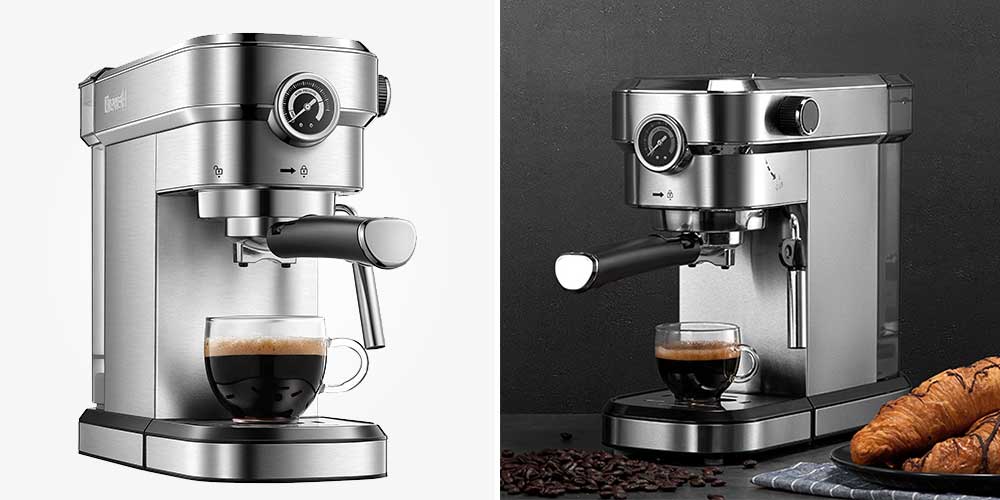 You can start brewing like a pro with the Brewsly 15 Bar Espresso Machine. Its stainless steel build looks and feels like a professional machine, especially with the powerful pump. It has dual temperature control to ensure that water and milk are mixed at optimal temps, and the milk frother's foam and steam levels can be adjusted to create a variety of coffee recipes. You'll get the perfect amount of single or double shot espresso with its automatic flow stop feature.
The Brewsly 15 Bar is one of the smallest espresso machines in this list, so it makes a nice addition to semi-crowded kitchen spaces. The transparent water tank makes it easy to keep track of how much is left, and is removable for easy filling. The top flat area has a heated metal plate to keep your cups warm to ensure you'll be enjoying the brew's full flavor once you pour. It doesn't take long to heat up before it's ready to pull, either, making it great for your quick morning lattes.
Pros:
Stainless steel build oozes premium quality
Small but mighty espresso machine
Heated cup holder
Auto flow stop
Double drip tray
Cons:
Steam wand only swivels sideways
Hamilton Beach Espresso Maker 40792
Latte, espresso and cappuccino machine with Italian pump
As one of the most affordable espresso machines in this list, the Hamilton Beach 15 Bar Espresso Maker is impressive indeed. It's easy to use thanks to its patented slide and lock design for its filter holder. The 15 bar Italian pump extracts rich crema from ground beans or coffee pods for your espressos, lattes and cappuccinos. The steam wand swivels so it's easier to froth and steam milk.
The top metal plate of the Hamilton Beach 40792 doubles as a cup warmer to get them ready while the machine heats up. The head is a bit low though, so you might feel limited by the height of the cups or mugs you put below it. You'll want to watch the extraction process to pull a single or double shot at the right time, which can take some practice if it's your first manual espresso machine.
Pros:
Slide and lock filter holder
Removable tank and drip tray
Cup warmer on top
Swiveling steam wand
Affordable price
Cons:
Steam wand can underperform
Verdict
The Mr. Coffee Café Barista and De'Longhi 15 Bar Espresso Machine tops our list of best espresso machines under $200.
Whether you prefer an automatic or manual espresso machine, you'll certainly find an excellent one even in this relatively budget range. The Mr. Coffee Café Barista comes out on top due to its semi-automatic operation, integrated milk frother, and easy to use interface. It's great for novice baristas who want to experiment with recipes without being too difficult to use. However, if you want to learn how to prepare espressos, lattes, and cappuccinos manually, the De'Longhi 15 Bar Espresso Machine is topnotch, allowing you to learn how to brew like a pro with quite delicious results.
FAQs
📌 What is the best espresso machine under $200?
Our top picks for best espresso machine under $200 is the Mr. Coffee Café Barista and De'Longhi 15 Bar Espresso Machine. You can check out our full top five in the post above.
📌 What is the best affordable espresso machine?
For espresso machines that cost around $100, you can check out the Gevi Espresso Maker and the Hamilton Beach 40715, which should get you started on making decent espresso on a lower budget.
📌 Are cheap espresso machines worth it?
It depends on what you mean by cheap, but you can easily find worthy espresso machines for $100 to $200. These are excellent for novice baristas and even pros who simply want a dependable espresso machine at home.
📌 Is 15 bar enough for espresso?
Yes, 15 bar pressure pumps are the standard for espresso machines to produce great-tasting espresso.
Last update on 2021-07-19 / Affiliate links / Images from Amazon Product Advertising API