From creative classroom decor to getting organized through labels, the benefits of Cricut machines for teachers are endless. Having a Cricut machine lets you do more while also saving you so much time–time that you can spend on preparing lessons or catching up with family and friends. But which Cricut is worth investing in? The portable Cricut Joy and the versatile Cricut Explore Air 2 are the best Cricut for teachers and our in-depth review below and sample classroom projects will tell you why.
The Best Cricut for Teachers in 2020: Cricut Joy & Explore Air 2
Cricut Joy: Best for Teachers Who Are New To Cutting
The compact Cricut Joy is great for printing super-long projects, label-making, and saving space
This compact Cricut machine which you can hold in the palm of your hand can do a wide array of projects in and outside the classroom. It is best for teachers who don't have a lot of extra space in the classroom as the Cricut Joy can easily fit in cubbies or in a tiny bag should you want to take it home.
Apart from its size, what sets the Cricut Joy apart from any other cutting machines is its ease of set-up and use, making it the perfect machine for teachers who are new to die-cutting. It is currently the only Cricut machine that features Smart Materials: labels, vinyls, and paper you can cut without having to use a cutting mat. This feature lets you feed a roll of vinyl and print up to 20-foot long projects without having to patch them together, making cutting different projects conveniently and efficiently. You can also print and cut 4-foot long individual shapes on one go. Even creating personalized cards for students has never been easier with Cricut Joy.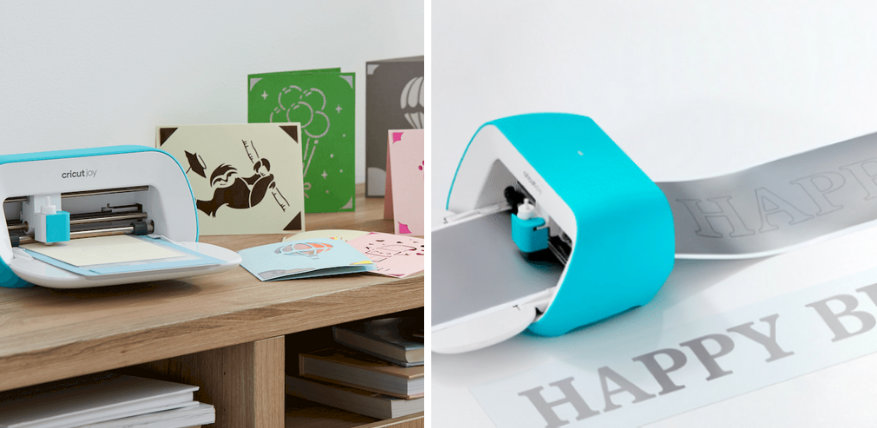 If you like making labels for the classroom materials, you will get significant savings if you get the Cricut Joy + Label Making Materials Bundle. This bundle includes Smart Label paper, writeable vinyl, and various colors of fine point and extra-fine point pens for Cricut Joy. Starting with these materials alone can let you create an array of label designs for the classroom.
Cricut Explore Air 2: Best For Teachers Who Want To Design Larger Projects
The Cricut Explore Air 2 offers a wider cutting space, letting teachers print bigger designs for bulletin boards, classroom decor, or T-shirt designs
Teachers who want to print bigger designs for classroom wall and window decals will benefit from the wider 12″ by 24″ cutting area offered by the Cricut Explore Air 2. The Cricut Joy is best for labels, greeting cards, tags, stickers, or long projects, but its max cutting width of 4.25 inches may seem too limiting for some. With the Explore Air 2, teachers can print and cut bigger letters and designs for classroom doors, bulletin boards, windows, or whiteboards.
In addition, the Cricut Explore Air 2 lets you cut more material types (up to 100) and has more compatible tools you can play with. It can further cut slightly thicker materials, including faux leather. The Explore Air 2 also features fast mode, letting you cut and write on different materials efficiently.
Unlike the extremely newbie-friendly Cricut Joy, the Cricut Explore Air 2 has some learning curve. This best-selling Cricut requires a cutting mat to print and cut various materials, so make sure you watch tutorials and get to know your Cricut way ahead of the start of the school year.