Away and Rimowa are two of the most in-demand luggage brands today, grabbing the limelight as celebrities continue to be spotted carrying one of these stylish suitcases. Though Away is a newcomer to the luggage industry, it quickly rose to fame thanks to its lightweight modern build and attractive price points. In contrast, Rimowa has been around since the turn of the century, and it's had all that time to perfect the luxury suitcase that it became known for. Those looking for hard shell travel bags may find it difficult to pick between the two, although their price tags are a significant factor. We compare two of their most popular products, the Away Carry-On and the Rimowa Salsa Air Ultralight to help you decide which carry-on to bring on your next adventure.
Away Carry On vs Rimowa Salsa Air Ultralight Comparison Chart
| | | |
| --- | --- | --- |
| Model | Away The Carry On | Rimowa Salsa Air Ultralight |
| | | |
| Price | Check Price | Check Price |
| Height | 21.7" | 21.6" |
| Width | 13.7" | 15.8" |
| Depth | 9" | 7.9" |
| Weight | 8.1 lbs | 6.55 lbs |
| Capacity | 39.8L | 31L |
| Ejectable Battery | Yes | No |
| TSA-Approved Locks | Yes | Yes |
| Compression | Yes | No |
| Hidden Laundry Bag | Yes | No |
| Telescopic Handle | Yes | Yes |
| Colors | Black, Navy, Green, Asphalt, Coast, White, Sand, Blush, Brick | Black, Navy, Violet, Ultra Violet, Ice Blue, Aqua Marine |
Design
The Away Carry-On has a matte look while the Rimowa Salsa Air Ultralight has a glossy finish.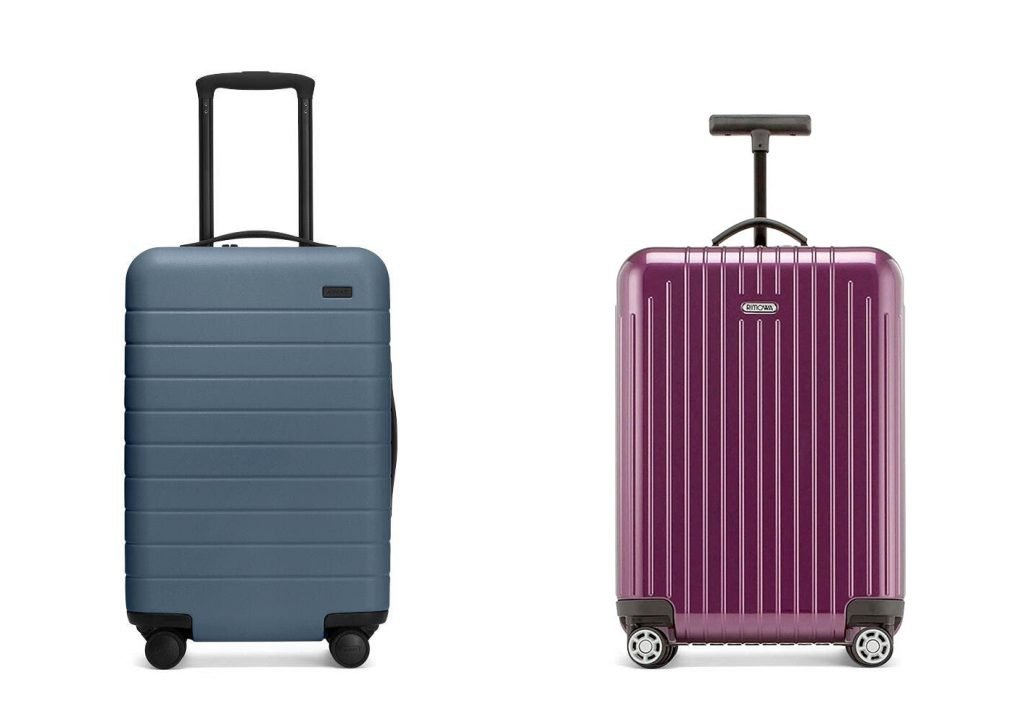 Both brands chose durable polycarbonate for the hard outer shell, which is more than sufficient to keep your belongings protected. As the younger company with more fresh design ideas, it's not surprising that Away has a more modern-looking carry-on than the long-running luxury brand Rimowa. Its minimalist approach and matte finish mesh well with contemporary visual styles. You can easily find thousands of photos of Instagram influencers and millennials posing with the Away Carry-On to and from far-flung places. On the other hand, the Rimowa Salsa Air Ultralight definitely stands out with its bold colors and glossy flair. It features vertical ridges compared to the Away's horizontal furrows, which can help keep the suitcase keep its position and deflect bumps.
Compared side by side, the Away Carry-On appears slimmer and the Rimowa wider, though it should be noted that the Away model is slightly thicker. The handles are also different, and depending on which style feels more comfortable for you might prove to be a big enough reason to go for one or the other (more on this in the Handling section below). Both of them do have multi-directional wheels that feel super smooth and can rotate easily to any direction.
Storage Space
The Away Carry-On has a larger capacity than the Rimowa Salsa Air Ultralight.
As mentioned, though both suitcases have the same height, the Away Carry-On is thicker while the Rimowa Salsa Air Ultralight is wider. Taking all dimensions together, the Away Carry-On actually has a larger total volume capacity of 39.8 liters compared to the Rimowa's 31 liters. It also has an interior compression system, which lets you squeeze clothes flat to maximize all of the available space inside. In addition, the Away's internal design provides separate sections for clothes and harder items such as toiletries and shoes, so it's a bit easier to organize your things. Light travelers will probably not mind the difference, especially since carry-ons aren't typically designed to hold much more, but it's nice to have the extra space if you need it.
Handling and Durability
The Away Carry-On is easier to handle but the Rimowa Salsa Air Ultralight is lighter and should be more durable.
A couple of small factors contribute to the Away Carry-On being easier to maneuver. The first is the handlebar, which is easier to grip and more comfortable to hold compared to the T-shaped telescopic handle of the Rimowa Salsa Air Ultralight, as it requires you to split your fingers which can result in awkward positions when turning. The slimmer width of the Away Carry-On should also feel easier to tow than the wider model, and while the Rimowa Salsa Air is much lighter, the overall weight of the carry-on will still depend on what you pack inside.
That said, you can expect the Rimowa Salsa Air Ultralight to be more durable against normal wear and tear as well as the occasional bumps and scrapes, simply because of the brand's well-regarded longevity and strength. Rimowa built its brand's reputation on the durability of its offerings, and you'll be glad to know that you're not spending hundreds of dollars on something that you won't be able to use a lot and for a long, long time.
Other Features
The Away Carry-On has a built-in phone charger.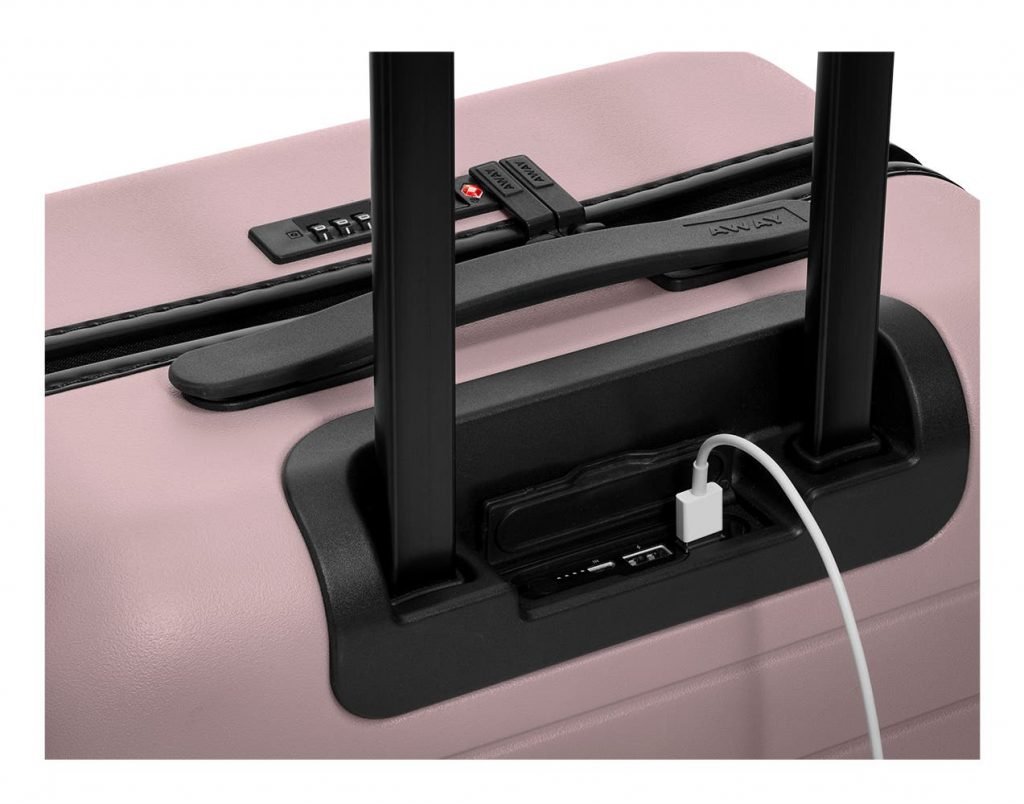 A nifty new feature that made the Away Carry-On popular among the younger tech-loving generation is the built-in ejectable battery under its handle. It's perhaps a must-have if you're on your phone a lot while travelling, and its accessible location is an added plus. There's also a laundry bag in that you can pull out when needed, which is otherwise kept neatly inside a side pocket that doesn't really take up space. Both carry-ons have TSA-approved combination locks so they're easy to secure as well as present to relevant inspections.
Verdict
The Away Carry-On is a better value buy than the Rimowa Salsa Air Ultralight.
Away Carry On
Rimowa Salsa Air Ultralight
With a slightly larger storage space, easier handling and a phone charger, the Away Carry-On looks to be able to provide everything the Rimowa can and more. Add in the fact that it's so much more affordable and it's an easy recommendation to make, especially if price is a significant consideration in your purchase. You'll get to enjoy a trendy suitcase that can actually come out unscathed even through some rough handling.
However, the Rimowa Salsa Air Ultralight is a luxury item on its own, and is definitely worth its cost if the number on the tag doesn't faze you. You can trust on the brand's reliability to provide you a thoroughly durable suitcase that looks great even with continued use. You might also consider it a good investment especially if you travel a lot and need to be able to depend on a carry-on to hold together as you fly around the world.