Away and Chester belong to a new generation of luggage brands that offer stylish bags and suitcases without premium price tags. We examine each brand's signature carry-on side by side to give you a recommendation between the Away Carry-On and the Chester Minima.
Away vs Chester Carry-On Comparison Chart
| | | |
| --- | --- | --- |
| Model | Away Carry-On | Chester Minima |
| | | |
| Price | Check Price | Check Price |
| Height | 21.7" | 21.8" |
| Width | 13.7" | 13.7" |
| Depth | 9" | 9" |
| Weight | 8.1 lbs | 7.0 lbs |
| Capacity | 39.8 L | 38 L |
| Ejectable Battery | Yes | No |
| TSA-Approved Locks | Yes | Yes |
| Compression | Yes | No |
| Hidden Laundry Bag | Yes | Yes |
| 360 Wheels | Yes | Yes |
| Available Colors | 13 | 8 |
Design
The designs of both carry-ons look very similar.
At first glance, the Away Carry-On and the Chester Minima look like they came out of the same mold, with only the horizontal vs vertical ridges along the shell to really tell them apart. They've embraced the minimalist aesthetic that's become the mainstream ideal in recent years, and we have to say that they pull it off splendidly.
Both hard shells are made from 100% polycarbonate, which is designed to withstand impact while also being easy to clean. Away has a few more color choices than Chester, though the tones are once again quite close in comparison. All in all, you'll admire how sturdy they feel and won't hesitate to include them in your travel photos.
Storage Space
Both carry-ons offer similar amounts of packing space.
Size-wise, the Away Carry-On and the Chester Minima have nearly the same listed dimensions, and the available interior space is no different. However, the Away Carry-On only has one zippered compartment while the Chester Minima has two. Moreover, the latter has a few more zip pockets to help organize smaller items while bigger clothing pieces go in the roomier spaces.
One feature that some might find useful on the Away Carry-On is its compression system, which uses a mesh panel and straps to flatten the bottom half. This should help tamp down any bulky clothes and should overall allow owners to pack a couple more clothing choices.
Both also include a laundry pouch that can be pulled out of its hidden pocket so you can separate dirty clothes from clean ones on the return trip home.
Handling and Durability
The Away Carry-On offers a limited lifetime warranty compared to the Chester Minima's 10-year limited warranty.
As young brands, both Away and Chester still need a few more years to prove that their luggage can survive multiple trips just as well as more established ones. The choice of polycarbonate hard shell over other materials such as ABS allow these suitcases to flex and bend as needed, improving their durability while staying lightweight. You should expect similar performance on both carry-ons in this department.
Still, Away offers their luggage products with a limited lifetime warranty, promising to take care of any damage to the functionalities of The Carry-On. In contrast, Chester includes a ten-year warranty on theirs, which is nevertheless still significant. This difference might be a consideration especially when you're thinking of going for the more expensive Away.
The spinner wheels on either carry-on are excellent, allowing you to walk the hardside case smoothly and silently without worrying about turns and rougher surfaces. The handles are slightly more curved on the Chester Minima but there's not much difference as they're both easily maneuverable and easy to grip.
Other Features
The Away Carry-On has an optional ejectable battery.
One nifty feature you might like on the Away Carry-On is the ejectable battery that's built-in under the handle for easy access. This allows you to juice up your mobile devices without pulling out anything from the suitcase or your bag, which is a nice convenience especially for digital nomads. It does make the suitcase slightly heavier.
Both carry-ons sport a TSA-integrated combination lock at the top of the luggage which saves time and effort when going through airport security checks.
Verdict
The Away Carry-On is only slightly better value than the Chester Minima.
Away Carry-On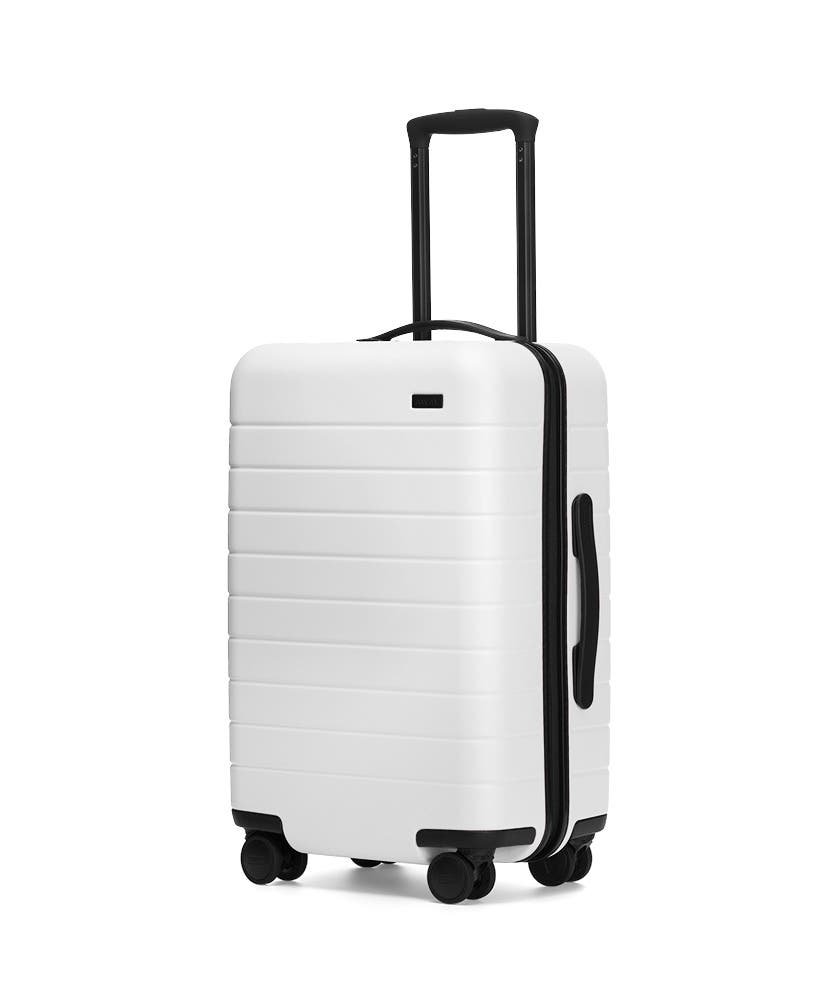 Chester Minima
With similar aesthetic appeal, build quality and interior space, it's not easy to settle this comparison of the new hardside carry-ons. We're giving the nod to the Away Carry-On simply due to it being a bit of a better investment with its longer warranty and the possibility of being able to pack more clothes with the help of the compression system. If you think you'll be using the built-in battery a lot, it becomes an even better buy and should make your decision easier.
Those who simply prefer keeping a portable power bank in their backpack will find the Chester Minima to be every bit as good as the Away. It looks just as lovely and features the same functionalities and capacities while being a bit more cost-effective.