If you're keen on getting luggage as stylish as you, Away Luggage and Delsey Paris will certainly offer some of the most attractive pieces you can find today. We compare Away's signature Carry-On with the Delsey Paris Chatelet Hard+ and go beyond the premium looks of these hardside cases to help you choose the best one for you.
Away Luggage vs Delsey Paris Carry-On Comparison Chart
| | | |
| --- | --- | --- |
| Model | Away Carry-On | Delsey Paris Chatelet Hard+ |
| | | |
| Price | Check Price | Check Price |
| Height | 21.7" | 20.25" |
| Width | 13.7" | 14.25" |
| Depth | 9" | 9.5" |
| Weight | 8.1 lbs | 9.3 lbs |
| Capacity | 39.8 L | N/A |
| Ejectable Battery | Yes | No |
| TSA-Approved Locks | Yes | Yes |
| Compression | Yes | No |
| Laundry Bag | Yes | Yes |
| Brake System | No | Yes |
| Available Colors | 13 | 3 |
Design
The Delsey Paris Chatelet Hard+ looks more impressive than the Away Carry-On.
With a premium textured finish and faux leather accents, the Delsey Paris Chatelet Hard+ has an elegant vibe and prestigious appeal. It looks more expensive than it actually is, and its virgin polycarbonate shell seems too beautiful to handle carelessly. Opening the suitcase will impress you even further, as the soft-touch red lining of the interior does a marvelous job of elevating this spinner even more.
By comparison, the Away Carry-On appears almost utilitarian in its minimalist tones and lines. It certainly looks good, especially the lighter color choices, and might actually be the more preferred style among younger travelers. Speaking of colors, there's a whole range to choose from for The Carry-On, from dark hues to chic white and blush up to the Pantone Color of the Year 2020, Classic Blue. Meanwhile, Delsey Paris only offers three neutral color options for the Chatelet Hard+.
Storage Space
The Delsey Paris Chatelet Hard+ has better interior organization.
Size-wise the Delsey Paris Chatelet Hard+ spinner suitcase is a bit wider and thicker than the Away Carry-On. Though they offer practically the same amount of room inside, you'll find it much easier to organize your packing on Delsey's model. Aside from multiple zip pockets and fully zippered top and bottom compartments, it also comes with a removable hanger and bags for shoes and laundry. Tie-down straps ensure clothes stay in place while on transit.
Nevertheless, you might be able to pack a bit more on The Carry-On from Away, thanks to its unique compression system. It can help flatten clothing even further to reduce bulk and maximize the available space. A hidden laundry bag can be pulled out on the return trip to keep worn clothes separate from the rest.
Handling and Durability
The Away Carry-On offers slightly better durability and ease of handling.
While both brands picked polycarbonate for its ability to flex and bend as needed to resist breaking, the Away Carry-On's solid build design and construction gives it the edge in this category. Neither are indestructible, but the Delsey Paris Chatelet Hard+ is a bit easier to scuff, which is also more noticeable on its fine finish.
The matte grip of the Away's handle also has the advantage over the slick aluminum of the Delsey spinner. However, the latter sports a brake system that locks the two front wheels so it doesn't roll off unintentionally. Speaking of which, both carry-ons have 360-degree multi-directional wheels that make them quite easy and smooth to walk alongside or drag behind you.
Other Features
The Away Carry-On has an optional ejectable battery.
Away offers a nice add-on (or a must-have, depending on your reliance on mobile devices) to The Carry-On: an ejectable battery. It's built right under the handle so you can easily pull that up and plug a charger cable in. It's a convenient feature for those who find themselves moving a lot during the trip, though some might prefer to simply tuck a power bank in their backpack instead. Still, it can be a backup charger in a jiffy in case you forgot to plug your phone in or didn't have time to do so.
Delsey placed their TSA-approved lock along the side of the Chatelet Hard+ while Away put it on top beside the main handle. These zipper puller locks save time and effort during inspections and of course make the suitcase more secure when it's not directly under your eye. Finally, there's a tracking plate at the back of the Delsey Paris carry-on which can help you find it in case it gets lost; just be sure to register it as soon as you receive your purchase.
Verdict
The Delsey Paris Chatelet Hard+ looks better, but the Away Carry-On is more practical.
Away Carry-On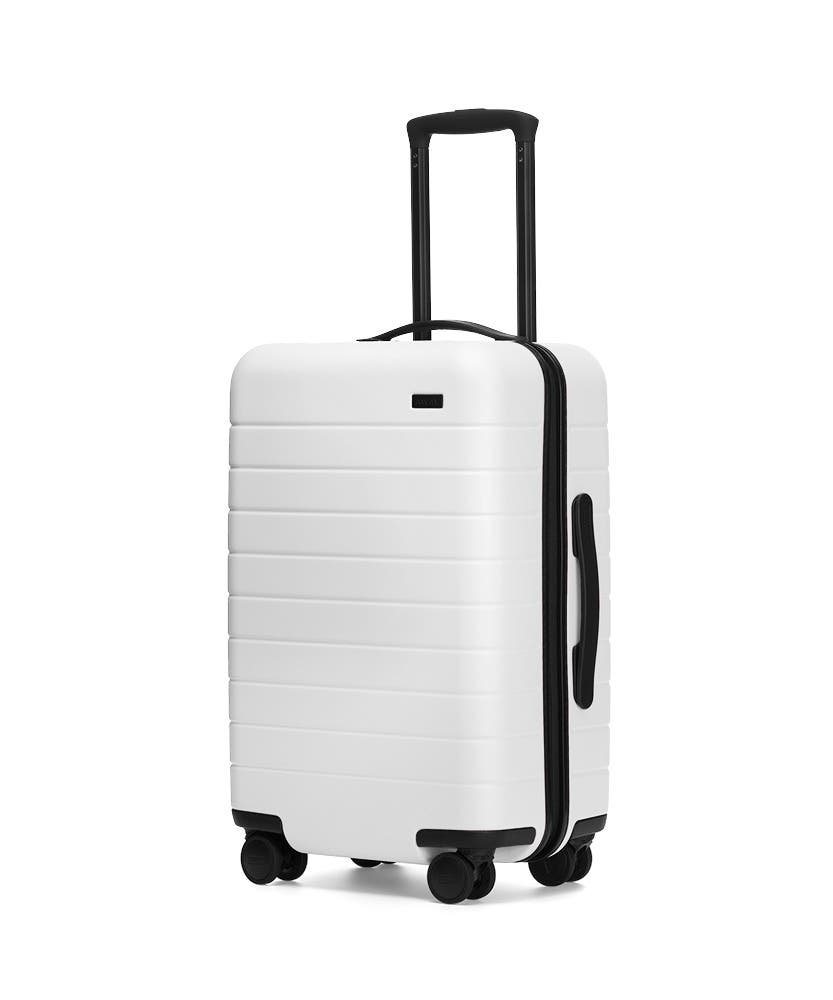 Delsey Paris Chatelet Hard+
It's a pretty close comparison, with each carry-on having clear advantages over the other. In the end, we'd recommend The Carry-On from Away if you travel multiple times in a year, as its lighter weight, durability and maneuverability should prove to make it the better investment for luggage you'd be frequently using. It's not bad-looking either, judging by the thousands of Instagram posts featuring it in various places. Plus, you'll often find yourself surprised at how much you were able to pack in it using the compression straps.
Now, if it's a premium suitcase you're after with all the requisite stylish touches, the Delsey Paris Chatelet Hard+ spinner suitcase is the obvious pick. It's simply gorgeous, and you'll love gazing at it whether it's standing by the side of the street or while you're taking out some clothes. It's even better if you like neatly packed items as its interior organization facilitates it. Just make sure to be a bit more careful since scuffs are much more likely to be noticeable on its textured shell.