RIMOWA is one of the first luxury luggage brands to release aluminum suitcases that have long become the go-to luggage of many celebrities and A-listers. The RIMOWA Classic Cabin S carry-on will cost you around a thousand dollars or more. However, Away Travel recently disrupted the market with its The Carry-On: Aluminum Edition that costs less than half the price of a RIMOWA carry-on. Does the wide gap in their price points mean a significant difference in their design and quality? We detail their features to help you decide which travel companion fits you better.
Away Aluminum Edition vs RIMOWA Classic Cabin S Comparison Chart
Model
Away The Carry-On: Aluminum Edition
RIMOWA Classic Cabin S
Price
Check Price
Check Price
Dual TSA-approved locks
(zipperless)
Yes
Yes
Weight
10.7 lbs
9.1 lbs
Dimensions
21.5" x 13.5" x 9"
21.7" x 15.7" x 7.9"
Capacity
35 L
33 L
Removable Charger
Yes
No
Material
Aluminum
Aluminum
Interiors
Compression system; hidden laundry bag
Height adjustable Flex Dividers
Handles
Slow-release, leather-trimmed handles
Telescopic, hand-made leather handles
Luggage Tag
Full-grain leather name tag
None
Wheels
Whisper-quiet 360° spinner wheels
RIMOWA Multiwheel System
Warranty
Limited lifetime warranty
Five-year guarantee upon registration
(excluding US and Canada)
Customization
Yes
Yes
Design
Away Travel looks more stylish and sleek while RIMOWA looks sturdier
RIMOWA first released its iconic aluminum suitcase in the 50s and back then, it was the suitcase of choice for those who need to protect sensitive equipment while traveling. Its suitcases are easily recognizable through its signature vertical grooves and gloss finish. The boxy frame and reinforced corners of the RIMOWA Classic Cabin make it sturdier and more durable than most aluminum suitcases available.
Meanwhile, the modern design of the aluminum suitcase by Away has won the loyalty of many since its release in 2018. Away Travel's design follows the sleek and matte trend that appeals to the younger generations (think Apple and Juul). You will often see Away's aluminum carry-on being toted by millennials around airports and on the Instagram feed of many travelers.
Another major difference between the aluminum suitcases by Away and RIMOWA is the design of their handles. You can easily distinguish the RIMOWA Classic through its hand-made black leather handles that feel luxe and soft. Away's leather-trimmed handles is not bad, but it does not feel as comfortable as the RIMOWA's.
Size and Weight
RIMOWA is lighter, but Away has a larger capacity
The aluminum and TSA-approved locks make these suitcases a little heavier than their polycarbonate counterparts. RIMOWA weighs 9.1 lbs at 33 L capacity while Away can carry up to 35 L and weighs 10.7 lbs. Size-wise, the Classic Cabin S is wider than The Carry-On by around two inches but Away is thicker by an inch.
Away features an interior compression system that will help you maximize the 35 L capacity. In addition, the various pocket sizes available on The Carry-On gives you more options and makes organizing smaller, loose belongings. On the other hand, the RIMOWA Classic Cabin comes with its signature Flex Dividers that are adjustable.
Additional Features
Away's The Carry-On comes with an ejectable battery; RIMOWA's telescopic handles allow for smoother maneuverability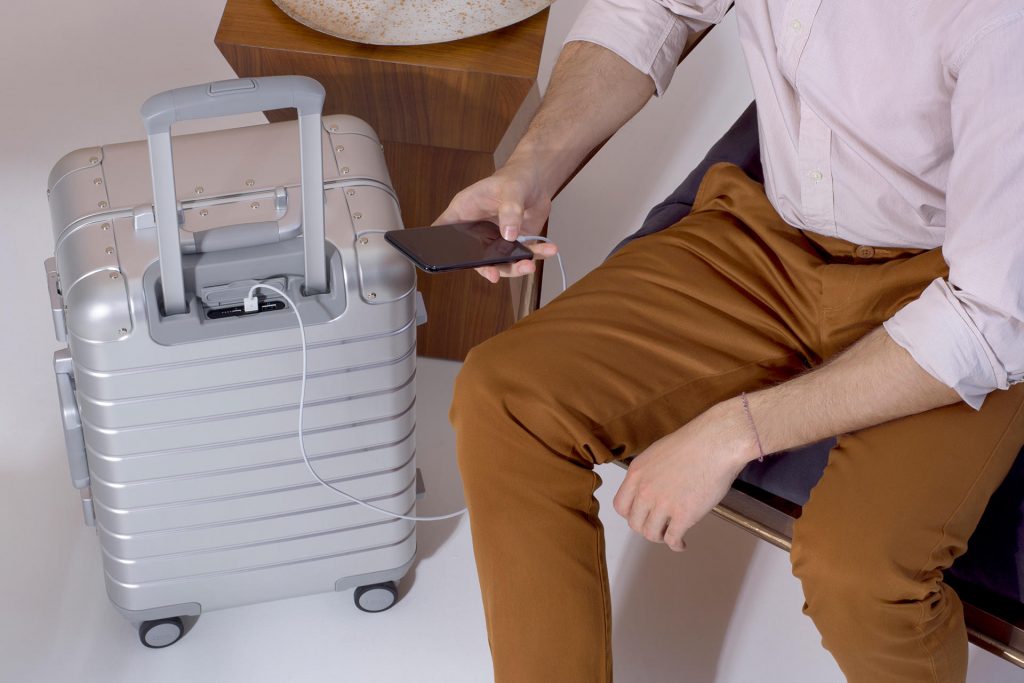 Away's ejectable battery has been useful for travelers who frequent crowded airports and fly on smaller airlines. If you are the kind who likes to keep your boarding pass on your phone, this smart suitcase feature comes handy.
The RIMOWA Classic Cabin S may not have an ejectable battery, but you can't go wrong with the classic functionality features a RIMOWA is known for. Its telescopic wheel handle is one of the sturdiest handles and feels stable. This allows for easier movement control even when filled to its full capacity.
Warranty and Returns
Away Travel generously offers a lifetime limited warranty while RIMOWA offers a five-year guarantee
Free shipping, returns, and attractive warranty policies make consumers feel at ease when purchasing online. Away Travel lets you return the suitcase within 100 days of purchase even after you test it on your trip. That's how confident they are of their carry-on. Away luggage further comes with a generous limited lifetime warranty that covers cracks or breaks on the shell (excluding dents and scratches) and any damage to handles, wheels, and other functional elements of your aluminum suitcase.
Meanwhile, RIMOWA allows returns within 30 days of purchase as long as the suitcase is unused and undamaged. They also give a five-year global guarantee (except for Canada and the US) when you register your RIMOWA suitcase online. Just like with Away, the guarantee covers the functional elements of your aluminum suitcase.
Verdict
The aluminum carry-on by Away will give you more bang for your buck
Away The Carry-On: Aluminum Edition
RIMOWA Classic Cabin S
Aluminum suitcases are sure to turn heads when traveling and are a good investment if you plan to keep yours for a long time. The Carry-On: Aluminum Edition by Away provides all the basic features you need from an aluminum suitcase for half the price of a RIMOWA Classic Cabin S. Away's interior design also allows packing more stuff, which comes handy as aluminum suitcases do not expand. However, if you travel often and do not mind the price tag, a RIMOWA is still a worthy investment.