The ASTRO A50 and SteelSeries Arctis 9X are two of the most popular wireless gaming headsets around for a good reason. Both have excellent sound and build quality, after all. They also have hours of battery life, and they're comfortable to wear for long gaming sessions to boot.
Even though they tick all the right boxes, their differences make them vastly distinct from each other. For instance, the Arctis 9X is made primarily for the Xbox One with features specific for the platform. Meanwhile, the A50 is more of an all-rounder, but it lacks in certain areas in comparison.
ASTRO A50 vs Arctis 9X Comparison Chart
| | | |
| --- | --- | --- |
| Model | ASTRO Gaming A50 | SteelSeries Arctis 9X |
| | | |
| Price | | |
| Frequency Response | 20 Hz – 20 kHz | 20 Hz – 20 kHz |
| Driver | Neodymium 40 mm | Neodymium 40 mm |
| Microphone | Unidirectional, voice-isolating, flip-to-mute | Bidirectional, ClearCast noise-canceling, retractable |
| Positional Audio | Windows Sonic Spatial Audio, Dolby Atmos for Headphones | Windows Sonic Spatial Audio |
| Software | ASTRO Command Center | SteelSeries Engine 3 |
| Connectivity | Base station | Xbox Wireless, Bluetooth 4.1 |
| Battery Life | Over 15 hours | Over 20 hours |
| Compatibility | PC, Mac, PlayStation 4/Xbox One and Xbox Series X | Xbox One, Xbox Series X, Mobile |
| Color | Black and gray, black and gold | Black and green |
| Weight | 0.8 lbs | 0.8 lbs |
Design and Comfort
Both weigh only 0.8 lbs, but the A50's cushions are arguably more comfortable.
When it comes to comfort, the A50 takes the lead. For starters, the cushioning of its earpads make it a delight to wear. It's also only 0.8 lbs, meaning it's light enough to use for hours on end.
The Arctis 9X is only 0.8 lbs too. As for its cushions, it sports what SteelSeries calls Airweave, which is basically memory foam with a layer of breathable fabric. It goes without saying that this combination makes the cans comfy.
Now the A50 is equipped with a flip-to-mute mic, while the Arctis 9X has a retractable one. This comes down to preference, but at any rate, the latter is more compact that way.
Gaming Performance
The Arctis 9X has better isolation, making other details easier to listen out for.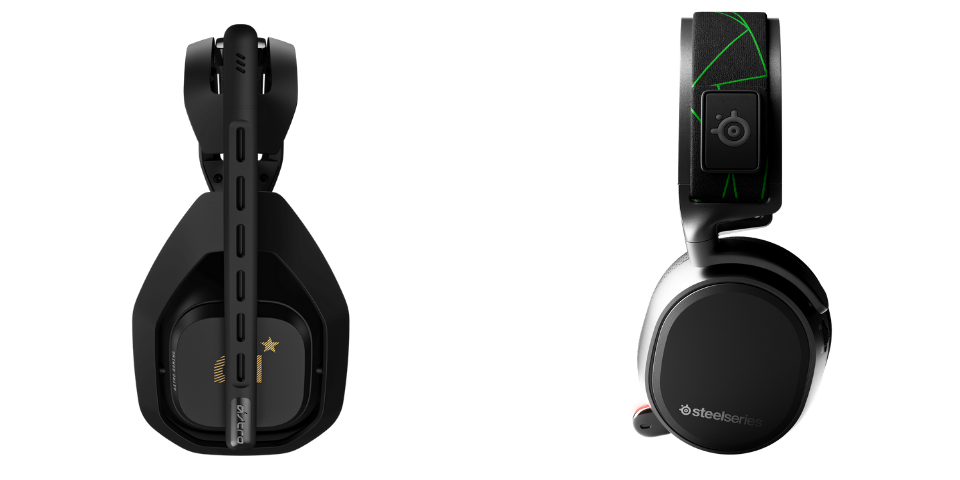 Typical of gaming headsets, the A50 has solid lows. However, it comes across as over emphasized, muddying the highs.
On the other hand, the Arctis 9X provides better isolation. It also delivers highs and mids with clarity, meaning most sounds will come through clear and won't be drowned out too much.
In terms of directional audio, the two can use Windows Sonic Spatial Audio, providing excellent results. In other words, the sound cues you can get out of them can help up your gaming. For the record, the A50 can also use Dolby Atmos for Headphones.
Both are also A-OK for listening to music. The A50 is better suited for bassy tunes because of its emphasis on lows. In contrast, the Arctis 9X has a more balanced sound, but its bass can still overpower other details at times.
Compatibility
The A50 is more flexible in a way than the Arctis 9X.
Connectivity and compatibility are where the difference between the two are really apparent. First off, the A50 uses a base station that connects via USB or an optical cable for pairing. There are two versions to choose from too. Both play nice with the PC, but one is made for the PlayStation 4 and the other is for the Xbox One and Xbox Series X.
In comparison, the Arctis 9X is designed primarily for the Xbox One and Xbox Series X. At that, it features an integrated Xbox Wireless connection, allowing it to easily pair with the console without dongles or anything along those lines. Thanks to that, it's one of the best wireless gaming headsets for the platform.
The Arctis 9X also has Bluetooth support, so you can use it with mobile devices. Thing is, it doesn't work with the PC right off the bat. You'll need the Xbox Wireless Adapter for that. Technically, it can be used with the PlayStation 4 and Nintendo Switch as well, but you'll have to buy a 3.5 mm cable first. Not to mention that you'll have to make do without a microphone if you're going that route.
Battery Life
Previous user reports say the A50's battery life is spotty at times.
Another important factor to consider when getting wireless headsets is battery life. Based on their specifications, the two are pretty par for the course.
To begin with, ASTRO touts the A50 as having a battery life of over 15 hours, while SteelSeries says the Arctis 9X will stay on for over 20 hours.
Of course, those numbers aren't always exact. One issue that's been plaguing the headset over generations is inconsistency on this front. Users even say that they can only get half of the advertised runtime. But it's more of a hit-and-miss, and from the look of things, ASTRO ironed out most of the kinks in the latest version. It's still something to keep in mind, though.
Verdict
While it's really a matter of preference, the Arctis 9X is just more appealing.
To boil things down, the Arctis 9X has the better audio quality and battery life. Meanwhile, the A50 is the comfier headset of the two.
Now the price gap is pretty huge. On that note, we prefer the Arctis 9X here simply because it's more affordable and sounds better. Sure, its compatibility is a bit lacking, but the Arctis 7's there for that. Besides, if you really want to use the Arctis 9X for everything, you can use the Xbox Wireless Adapter or a 3.5 mm cable.
FAQs
📌 Is the ASTRO A50 worth it?
Yes, the A50 isn't just lightweight, but it's also a comfortable pair of headphones that you can game with for hours.
📌 Is the SteelSeries Arctis 9X worth it?
Yes, the Arctis 9X is especially worth getting if you're mainly an Xbox One gamer. That's because of its integrated Xbox Wireless connectivity.
📌 Which is better, the ASTRO A50 or SteelSeries Arctis 9X?
The A50 is better than the Arctis 9X when it comes to comfort. However, the latter is better in terms of sound quality.
📌 How long is the battery life of the ASTRO A50 and the SteelSeries Arctis 9X?
The A50 is rated to last over 15 hours, while the Arctis 9X is said to go more than 20 hours.
Last update on 2022-05-23 / Affiliate links / Images from Amazon Product Advertising API