Setting up home security systems is now easier thanks to companies such as Arlo and Blink. Two of their latest products, the Arlo Pro 3 and the Blink XT2, are wireless devices that only require a few minutes to install and start running. Here's what you need to know if you're deciding between these two smart security cameras.
Deal Finder
Blink XT2
Protect your home with the Blink XT2, a versatile waterproof wire-free camera with two-way audio, motion detection, and live view recording. Features a two-year battery life and cloud storage.
Check Price at Amazon
Check Price at Walmart
We are reader supported. When you buy through our links we may earn an affiliate commission.
Arlo Pro 3 vs Blink XT2 Security Camera Comparison Chart
Model
Arlo Pro 3
Blink XT2
Price
Check Price

at Amazon

Check Price

at Amazon

Dimensions
89 x 52 x 78.4 mm
71 x 71 x 34 mm
Weight
316 g
89 g
Wireless
Yes
Yes
Max Resolution
2K + HDR
1080p
Field of View
160 degrees
110 degrees
Integrated Spotlight
Yes
No
Color Night Vision
Yes
No
Two-way Audio
Yes
Yes
Noise Cancellation
Yes
No
Siren
Yes
No
Hub/Base
Arlo Smart Hub
Blink Sync Module
Cloud Storage
Paid
Free
Battery Life
3-6 months
2 years
Subscription Service
Arlo Smart (3 months free)
None
Design
The Blink XT2 is smaller and easier to set up than the Arlo Pro 3.
To start with, the Blink XT2 has a slimmer profile than the Arlo Pro 3. Its rectangular design and black color makes it less noticeable and intrusive than other larger security cameras. It's a lot lighter too, which makes it even easier to install and get set up. There are no wires to mess with so the most difficult part of setup will likely be choosing where to put the Blink XT2.
In contrast, the Arlo Pro 3 arguably has a more elegant design. Its white unibody shell curves smoothly and is just as weather-resistant as the Blink XT2. Aside from the large camera lens at its front, there's a spotlight at the top with a microphone and speaker for communication. On the Blink XT2 the large central sensor is a motion detector while the camera lens is right above it.
What's amazing about the Blink XT2 is that it has a very high battery life of 2 years despite being smaller. The unit comes with 2 lithium batteries that won't need recharging for a while unlike the Arlo Pro 3, which will need to be plugged in every 3-6 months. It's easy to do so though, since its charging port is magnetic and you won't need to dismount it first.
Video Quality
The Arlo Pro 3 has a higher max resolution and wider field of vision than the Blink XT2.
Compared to the Blink XT2, the Arlo Pro 3 is superior in overall image quality. It has a max resolution of 2K, with optional 1080p and 720p quality if you prefer. You'll be able to livestream in 2K if you're connected to the home network where the Arlo Pro 3 is. Furthermore, you get a wide 160-degree view from its mounted perch, and you can use a special mounting kit to allow its position to be adjustable.
The Blink XT2 meanwhile is limited to a 110-degree diagonal, and is capped at a 1080p HD resolution. You'll want to be a bit more selective on its placement although you can nudge it later on. At night its infrared light emitter lets you view in the dark, but you'll only see in black and white unlike with the Arlo Pro 3, which has a color night vision feature.
Deal Finder
Arlo Pro 3
The Arlo Pro 3 indoor/outdoor security camera delivers wide, panoramic views, enhanced night vision, and advanced noise cancelling technology. Includes motion detection, two-way communication and live streaming.
Check Price at Amazon
Check Price at Walmart
We are reader supported. When you buy through our links we may earn an affiliate commission.
Another thing that gives the Arlo Pro 3 even better nighttime coverage is its built-in spotlight. While both security cameras have motion sensors, you can set the Arlo Pro 3 to automatically turn its spotlight on if it detects activity, in addition to sending you an alert. Having another bright light on will also of course allow you to see much better in darker conditions.
Audio Quality
The Arlo Pro 3 records clearer audio than the Blink XT2.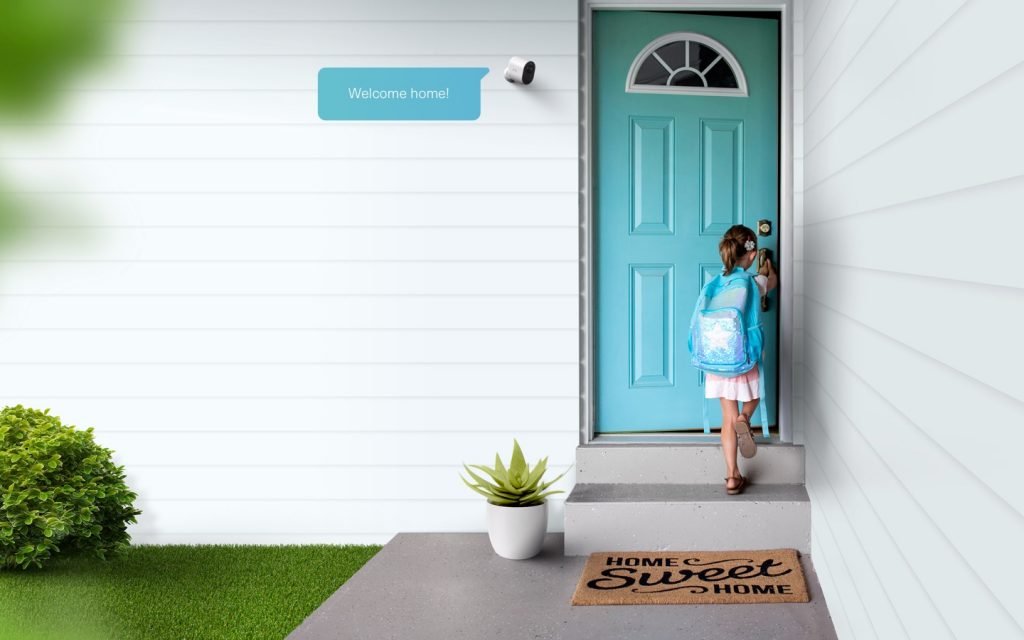 Setting up either of these smart security cameras near your front door lets you speak with deliver people and visitors in case you're not around. They're both equipped with two-way audio so you can speak through your phone and listen to visitors wherever you are.
Audio quality is just a bit better on the Arlo Pro 3 thanks to noise cancelling features. You'll be able to hear people from as far as 30 feet away as long as there's no very loud noises nearby. The other advantage the Arlo Pro 3 has over the Blink XT2 is its built-in siren. Like the spotlight this can be set to go off automatically or be triggered manually.
Aside from that, both have voice assistant support, letting you access it and send commands using Amazon Alexa, Google Assistant and Apple Homekit. You'll need to have the appropriate platform already set up on your network though.
Other Features
The Blink XT2 offers free cloud storage while the Arlo Pro 3 only records with a paid subscription.
We won't mince words here and simply say you'll spend a lot less with the Blink XT2 compared to the Arlo Pro 3. For starters, the Blink XT2 is designed to work with just the included Sync module which connects it to the home network. In contrast, the Arlo Pro 3 requires a separate Smart Hub, which raises the cost of this security system significantly.
Second, Blink doesn't offer any monthly plans with the XT2. The unit comes with free cloud storage that you can access at anytime, though it only records video clips instead of constant footage. The Blink XT2 starts recording when it detects motion, so you can either watch the clip or view the live feed when you receive the alert.
On the other hand, the Arlo Pro 3 comes with a three-month free trial for the Arlo Smart Premier service. This subscription service provides a lot of advanced security features such as access to footage of the last 30 days, intelligent alerts, person/vehicle/animal detection, activity zone monitoring and more. It does mean you'll have to pay more eventually to look at recordings, but you get a long enough time to see whether the value is worth the additional monthly cost.
Verdict
The Blink XT2 is a nice low-cost security camera choice, while the Arlo Pro 3 offers advanced features at a price.
As it costs only half as much, the Blink XT2 security camera is an amazing and cost-effective choice. It's lightweight, easy to set up and offers nearly all of the major functionalities as other more expensive options offer. While other companies are now charging for cloud storage for video recordings, Blink keeps it free, and the Blink XT2's battery life in particular lasts longer than most.
If you're after the latest advancements in smart security systems, the Arlo Pro 3 is the superior choice. It has much higher image quality and clearer sound output, and the addition of a spotlight as well as a siren allows it to become a deterrent for would-be trespassers. The Arlo Pro 3 is also recommended if you're setting up multiple cameras in and around your home.
FAQs
📌 Is Arlo Pro 3 worth the upgrade?
If you already have the Arlo Pro 2, the improved video resolution and added features might not be enough to justify the amount you'll be spending. For other less powerful smart security cameras, the Arlo Pro 3 can definitely be worth the upgrade if you're looking to improve home security heavily.
📌 Is Blink a good security system?
For its price, Blink's security cameras are impressive indeed since they offer good performance and durability with numerous features such as two-way audio, night vision, clip recording, etc.
📌 How long do the Arlo Pro 3 batteries last?
The Arlo Pro 3 has a battery life of 3 to 6 months, which is adequate but unimpressive compared to other security cameras.
📌 How far will Blink XT2 detect motion?
The maximum range of the Blink XT2's motion detection sensor is 25 feet, the same for all Blink cameras.