The arrival of the Apple Watch SE puts an interesting spin on current smartwatch lineups from competitors such as Fitbit. As the more 'affordable' option, the Apple Watch SE competes against other mid-tier models, which for Fitbit is the Versa 3. However, those who have even less budget to work with or simply desire a fitness companion for not too big of a spend will find the Fitbit Versa 2 an even more appealing consideration. Here's how the Apple Watch SE and Fitbit Versa 2 stack up against each other, along with recommendations on when to choose one over the other.
Apple Watch SE vs Fitbit Versa 2 Fitness Smartwatch Comparison Chart
Model
Apple Watch SE
Fitbit Versa 2
Price
Check Price
Check Price
Display
Retina
AMOLED
Always-on
No
Yes
Screen Size
1.57″ (40 mm)
1.78″ (44 mm)
1.39″
Resolution
324 x 394 pixels (40 mm)
368 x 448 pixels (44 mm)
300 x 300 pixels
Dimensions
1.57″ x 1.34″ x 0.42″ (40 mm)
1.73″ x 1.5″ x 0.42″ (44 mm)
1.57″ x 1.57″ x 0.48″
Colors
3
3
Call & Text Alerts
Yes
Yes
Water Resistance
Up to 50 meters
Up to 50 meters
Heart Rate Monitor
Yes
Yes
ECG Monitor
No
No
Pedometer
Yes
Yes
Altimeter
Yes
Yes
Calorie Burn Tracker
Yes
Yes
Sleep Tracking
Yes
Yes
Swim Tracking
Yes
Yes
Female Health Tracking
Yes
Yes
Fall Detection
Yes
No
Compass
Yes
No
GPS
Built-in
Connected
Cellular
Available
No
Wi-Fi
Yes
Yes
Bluetooth
Yes
Yes
NFC
Yes
Yes
Storage
Yes
Yes
Compatibility
iOS
iOS, Android
Battery Life
18 hours
6+ days
Design
The Apple Watch SE has a more stylish design than the Fitbit Versa 2.
Since neither smartwatch has really strayed too far from their roots, the Apple Watch SE and Fitbit Versa 2 keep the distinctive designs of their original first-gen models. The Apple Watch SE has the edge in overall build quality and premium finish, with its crisply interlocking components and vibrant display. In comparison, the Fitbit Versa 2 looks a bit dated at this point, and that's before turning its screen on and comparing visual quality.
The Apple Watch SE's Retina display remains as impressive as ever, and it's both larger and has a higher resolution than the Fitbit Versa 2. The 40mm Apple Watch SE has a 1.57-inch display and the 44mm a 1.78-inch screen, while the Versa 2 only has a 1.39-inch touchscreen. The bezels on the Versa 2 are considerably wider and their case sizes are relatively similar. The Versa 2 also has a 300 x 300 pixel resolution while both Apple Watch SE sizes have higher.
One advantage the Fibit Versa 2 has over the Apple Watch SE is an always-on display option. Apple chose to leave out this feature introduced in the Series 5, instead keeping it only on the Series 6. With the always-on option, the Fitbit Versa 2 can function as an actual wristwatch that can tell you the time at a glance, though it drains battery life much quicker as a result. On the flip side, the digital crown with haptic feedback found on the right side of the Apple Watch SE makes navigating the smartwatch easier and faster.
There are new bands launching with the Apple Watch SE: the Solo Loop and Braided Solo Loop. These are stretchable so they can be worn without the need for clasps, like on most Versa 2 bands. Both smartwatches have interchangeable bands so you can change its look to match your outfit, though they're purchased separately, of course.
Activity Tracking
The Apple Watch SE has a few more health features than the Fitbit Versa 2.
With automatic exercise recognition and goal-based workouts, both the Apple Watch SE and Fitbit Versa 2 are excellent fitness trackers. They're equipped with all the standard activity tracking sensors you can expect, so your heart rate, steps taken, calories burned, etc., will all be recorded for later analysis and progress measurement. Those who enjoy running and cycling will find the built-in GPS of the Apple Watch SE a nice convenience compared to the Fitbit Versa 2's reliance on using your phone's GPS.
The Apple Watch SE has a few health-related features not found on the Versa 2: fall detection and emergency SOS. Through its accelerometer and gyroscope, the Apple Watch SE can detect if you've fallen and can request immediate help from emergency services or your emergency contacts. It works even when you're travelling overseas so it can come in handy. This can be a big factor in determining which smartwatch is more beneficial for you.
The Fitbit Versa 2 is not without its own unique attractions. Sleep tracking is more detailed and insightful on the Versa 2 than on the SE, which only really tracks sleep length and trends. It's the first time that the Apple Watch is getting a native sleep app but its short battery life can get in the way. In comparison, the Fitbit Versa 2 has plenty of battery charge to spare and has been developing sleep tracking longer. It records light, deep, and REM sleep and calculates your Sleep Score to measure sleep quality. Overall, the Fitbit Versa 2 can help you develop better bedtime habits than the Apple Watch SE.
For those who want to push their health and fitness routines as far as they can, Fitbit Premium offers guided programs, personalized coaching, and advanced tools. It lets you get more out of the Versa 2, letting you fine-tune your workout sessions so you can keep challenging yourself. Apple is launching its own subscription service, Fitness+, offering video workouts from expert trainers.
Smart Features
The Apple Watch SE is a more advanced smartwatch than the Fitbit Versa 2.
While you can customize the Apple Watch SE and Fitbit Versa 2 with apps, Apple's library is further developed and filled with more first-party apps from well-known brands. There's no question that Apple has a leg up on this area due to its clout among app developers and the overall popularity of the Apple Watch itself over other smartwatches. With the SE shipping with the latest watchOS 7, it also brings new and advanced features such as Family Setup, which gives parents easier control over their children's Apple Watches.
As mentioned, the Apple Watch SE has built-in GPS so it can navigate as a standalone device. In addition, there's a cellular-enabled model that lets you stay connected even without bringing your iPhone. This comes on top of the Wi-Fi, Bluetooth, and NFC connectivity that the Fitbit Versa 2 has. Both do let you pay with your wrist via Apple Pay and Fitbit Pay via NFC, as long as the establishment supports it.
Other than the standard notifications from apps, calls, and text messages, the Apple Watch SE and Fitbit Versa 2 also support voice assistants. However, the Apple Watch SE has a mic and speaker that allow you to ask and listen to Siri directly, whereas the Versa 2 only has a mic so its built-in Alexa can only respond with on-screen text.
For music, the Apple Watch SE lets you download music, podcasts, and audiobooks from Apple Music while the Fitbit Versa 2 has a more limited storage and only supports Pandora and Deezer. It can still control playback on your phone's Spotify.
Battery Life
The Fitbit Versa 2 has a much longer battery life than the Apple Watch SE.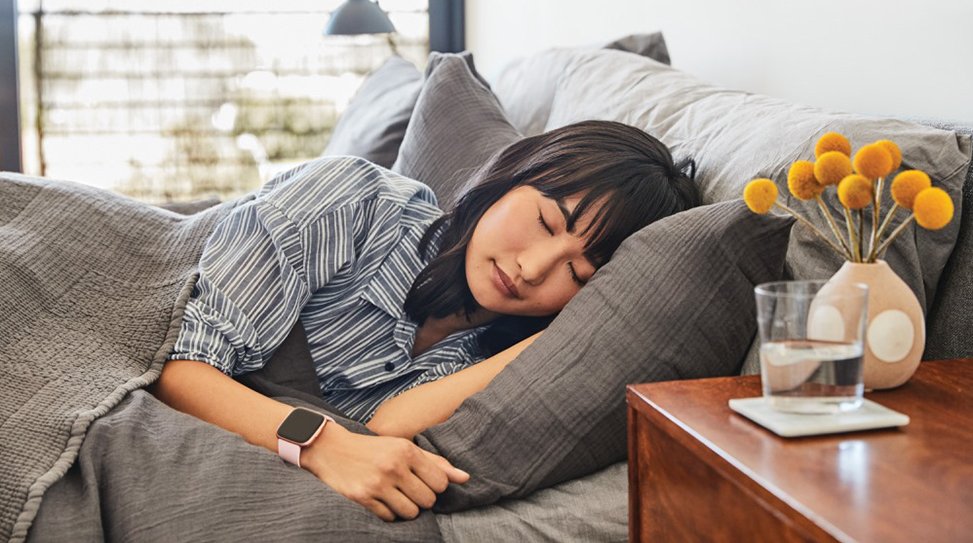 The one area where the Fitbit Versa 2 has a clear and immense advantage over the Apple Watch SE is battery life. The Fitbit Versa 2 has a 6+ day battery life while the Apple Watch SE only has up to 18 hours of runtime. This means you can wear the Fitbit Versa 2 all day while tracking your workouts and throughout the night to track your sleep. Turning on the always-on display will drain its charge rapidly though, so you need to keep it in mind.
It might not be surprising that the Apple Watch SE doesn't last nearly as long given its more powerful hardware, though it's still disappointing for those who wish to wear their smartwatch all the time to track all-day activity. You'll likely need to recharge the Apple Watch SE daily, which can hamper efforts to track sleep quality.
Verdict
The Apple Watch SE is more powerful while the Fitbit Versa 2 lasts longer.
Those who already have an iPhone or can save up for the extra cost are highly incentivized to choose the Apple Watch SE. It's packed with more smart features and emergency health monitoring, and it arguably looks more stylish and premium on your wrist. The GPS+Cellular version provides full connectivity and you can choose from two sizes and any number of bands to customize its look and fit.
However, for sheer value and functionality, the Fitbit Versa 2 is more accessible than ever. It has been largely successful as Fitbit's flagship smartwatch and despite more advanced models, it delivers big on helping you improve your overall health and fitness. If you have an Android phone, the Fitbit Versa 2 won't feel inferior at all, and even iPhone owners who really want to push their workouts will find better guidance and insights from the Fitbit app.
FAQs
📌 Is the Apple Watch SE worth it?
Yes, the Apple Watch carries the most essential features of the latest Apple Watch Series 6 while keeping a more affordable price tag. If the Apple Watch Series 6 is a bit too expensive for your budget, the Apple Watch SE is the ideal choice.
📌 Is the Fitbit Versa 2 worth it?
Yes, the Fitbit Versa 2 is now even better value than ever since it should be available with significant price drops after the release of the Fitbit Versa 3. This doesn't take away its overall impressive performance as a fitness tracker and smartwatch hybrid.
📌 Is the Apple Watch SE waterproof?
Yes, the Apple Watch SE has a water resistance rating of 50 meters, allowing them to be worn for shallow water activities in indoor swimming pools and the ocean.
📌 Can you text on the Fitbit Versa 2?
If you pair an Android smartphone with the Fitbit Versa 2, you can reply to text messages using preset quick replies.
Last update on 2020-12-23 / Affiliate links / Images from Amazon Product Advertising API