With a slew of new smartwatches hitting the market, shopping for a new one becomes a challenging ordeal. At close to the same price range, the Apple Watch SE and Fitbit Sense is one of the more interesting comparisons. The Apple Watch SE is intended to be an affordable alternative while the Fitbit Sense is a new flagship line. Which one will actually get you more bang for your buck? Here's our breakdown of their specs and features as well as recommendations on which to get.
Apple Watch SE vs Fitbit Sense Fitness Smartwatch Comparison Chart
Model
Apple Watch SE
Fitbit Sense
Amazon product
Amazon product
Price
Amazon product
Amazon product
Display
Retina
AMOLED
Always-on
No
Yes
Screen Size
1.57″ (40 mm)
1.78″ (44 mm)
1.58″
Resolution
324 x 394 pixels (40 mm)
368 x 448 pixels (44 mm)
336 x 336 pixels
Dimensions
1.57″ x 1.34″ x 0.42″ (40 mm)
1.73″ x 1.5″ x 0.42″ (44 mm)
1.57″ x 1.57″ x 0.47″
Colors
3
2
Call & Text Alerts
Yes
Yes
Water Resistance
Up to 50 meters
Up to 50 meters
Heart Rate Monitor
Yes
Yes
ECG Monitor
No
Yes
Blood Oxygen
No
Yes
Pedometer
Yes
Yes
Altimeter
Yes
Yes
Calorie Burn Tracker
Yes
Yes
Sleep Tracking
Yes
Yes
Swim Tracking
Yes
Yes
Female Health Tracking
Yes
Yes
Stress Tracking
No
Yes
Fall Detection
Yes
No
Skin Temperature
No
Yes
Compass
Yes
No
GPS
Built-in
Built-in
Cellular
Available
No
Wi-Fi
Yes
Yes
Bluetooth
Yes
Yes
NFC
Yes
Yes
Storage
Yes
Yes
Compatibility
iOS
iOS, Android
Battery Life
18 hours
6+ days
Fast Charging
No
Yes
Design
The Apple Watch SE has a sleeker look while the Fitbit Sense has an always-on display.
First off, the similarities: the Apple Watch SE and Fitbit Sense both have squarish cases for their touchscreen displays and silicone standard bands. You'll note that the Apple Watch SE is actually rectangular and has straight sides and rounded corners while the Fitbit Sense curves more along its edges. We'd have to say that Apple's design is a bit more aesthetically pleasing with how smoothly its display and band fits into the case, plus it has cleaner lines overall.
An easy way to tell each smartwatch apart even from a distance is the digital crown on the right side of the Apple Watch SE. This dial makes scrolling through the watch's interface easy without your finger blocking the screen otherwise. The Fitbit Sense doesn't have a similar control feature, instead it only has a solid-state button on its left, which is a small area with a capacitive sensor. You can customize its single, double, and long press to bring up the home screen or open your favorite apps.
Apple has noticeably trimmed the bezels of the Watch SE, so you're getting the same display size of 1.58″ on its 40mm model as the Fitbit Sense. Both Retina and AMOLED displays are bright and fantastic, though the SE has slightly better resolution. Its 44mm model is bigger and better in every respect, especially if you want a larger screen that's easier to read.
The Fitbit Sense is only available in two colors, Carbon and Lunar White to go along with its Graphite and Soft Gold stainless steel cases, respectively. Meanwhile, the Apple Watch SE comes in Space Gray, Silver, and Gold aluminum cases. There are numerous interchangeable bands you can get with either smartwatch so you can personalize their look and match them with your outfits.
Health and Activity Tracking
The Fitbit Sense has more health monitoring features than the Apple Watch SE.
Fitness enthusiasts will find both Apple Watch SE and Fitbit Sense to be amazing wearables for activity tracking. They're equipped with all of the requisite sensors you'd want in a fitness tracker, such as heart rate monitor, accelerometer, pedometer, altimeter, etc. With built-in GPS you'll be able to map your routes during runs and they're water resistant too so you can go swimming in pools wearing them. We'd rate the Fitbit app just a bit higher than Apple's, though you're more likely to find high profile sports apps on the watchOS library.
Health monitoring is an increasingly bigger focus for both companies and they continue to offer more in this aspect. As the affordable version, the Apple Watch SE lacks the full complement of health-related features of the new Series 6, so it doesn't have an ECG app or blood oxygen sensor. However, it does have fall detection and emergency SOS, so it can notify emergency services if you require aid.
In comparison, the Fitbit Sense is stacked with health tracking features. It has an ECG app that can test for possible heart beat irregularities such as atrial fibrillation, though it's expected to be cleared by the FDA later this year. It has an SpO2 sensor that also measures your blood oxygen levels during sleep. While the Apple Watch SE also has sleep tracking, it's not as detailed and insightful as that of Fitbit's.
A fairly new addition to Fitbit's array is a skin temperature sensor that lets you know whether your body has a higher or normal temp than your normal range (measured after a few days of wear). And finally, the Sense has an EDA Scan app that tracks electrodermal activity to determine how your body reacts to stress.
Lastly, you'll get even more out of your Fitbit Sense with Fitbit Premium, which offers guided exercises and personalized coaching among other health and fitness programs. You get a six month free trial to Premium if you sign up as a new user with the Fitbit Sense. Apple is also entering this fitness subscription service with Fitness+, bringing expert fitness trainers to your big screen. Getting an Apple Watch SE will also grant you 3 months of Apple Fitness+ for free.
Smart Features
The Apple Watch SE performs better as a smartwatch than the Fitbit Sense.
Until Fitbit and other brands can get a richer app library for their smartwatch platforms, Apple will continue to dominate the scene with more refined and better developed apps. You're going to find excellent apps for nearly every purpose more easily on the Apple Watch SE than on Fitbit Sense. In addition, the new watchOS 7 on the SE brings some new features such as Family Setup, which lets you manage your children's Apple Watches using your iPhone for improved parental controls.
Both Apple Watch SE and Fitbit Sense have LTE versions for full connectivity even without bringing your phone. They also allow you to make contactless payments via Apple Pay and Fitbit Pay, respectively, for that added convenience of not reaching for your wallet. The Apple Watch SE has a slight advantage in having a built-in compass for outdoor navigation, which works well with its new watch faces that display relevant information catered to different interests such as adventuring, stargazing, surfing, etc.
With built-in mics and speakers, both smartwatches are able to give a full voice assistant experience. The Apple Watch SE has Siri of course, but you get to choose between Amazon Alexa and Google Assistant on the Fitbit Sense. You can reply to messages and calls on the Fitbit Sense but only with an Android phone. Meanwhile, the Apple Watch SE will only work with an iPhone so it's easy to leave it out of consideration if you're not getting one anytime soon.
For music, both smartwatches have internal storage so you can keep songs and play them offline. However, Apple only allows downloading media from Apple Music and Fitbit only partners with Deezer and Pandora. You can control Spotify with either one, but no offline playlist support is available.
Battery Life
The Fitbit Sense has incredible battery life compared to the Apple Watch SE.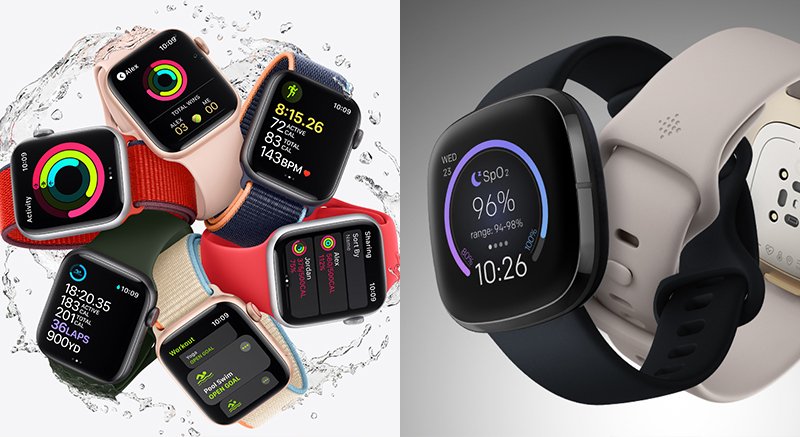 With only an 18-hour battery life, the Apple Watch SE will need to be taken off and recharged daily. This can be annoying if you want to be able to track your sleep quality after using the smartwatch all day. The powerful hardware and display of the Apple Watch is likely the reason its battery capacity only lasts so long. Depending on your own usage, the SE's short battery life can be a big concern or an acceptable downside given how it performs.
On the other hand, the Fitbit Sense has a massive 6+ day battery life. You'll be able to wear it nearly a whole week if you're conservative with its battery-draining features. Turning on GPS and always-on display will rapidly consume its charge, so don't be surprised if you need to recharge it sooner than you think.
Verdict
The Fitbit Sense offers more features than the Apple Watch SE.
Amazon product
As Fitbit's new flagship smartwatch, the Fitbit Sense does not disappoint in the host of features it packs at a lower price range than other competitors. You'll get a broad range of health monitoring sensors to go along with Fitbit's already robust fitness features, letting you get the most out of your wearable. The fact that it has around 8 times the battery life of the Apple Watch SE will give some iPhone fans pause at what should be an easy choice.
Still, it's pretty hard to not recommend the Apple Watch SE if you already have an iPhone and any other Apple devices or subscriptions. They simply work too well together so you're getting more value by staying within its ecosystem. The Apple Watch SE easily makes for a more powerful smartwatch, with a deep library of apps to tap into. Its lower price point compared to the Series 6 justifies any features it's missing, as it's still a fantastic wearable.
FAQs
📌 Which Fitbit is closest to an Apple Watch?
Releasing this year, the Fitbit Sense is now the closest smartwatch to the Apple Watch that the brand offers. It has an impressive display, numerous smart features, and a complete array of health and fitness sensors just like its rival.
📌 What is the Apple Watch SE?
The Apple Watch SE is a new mid-range smartwatch that offers nearly all the same features as the Apple Watch Series 6, the latest flagship wearable from Apple. It lacks the ECG and Blood Oxygen apps as well as an always-on display option of the Series 6, but is offered at a lower price range.
📌 Can Fitbit detect stress?
The new Fitbit Sense smartwatch has an EDA app that can measure electrodermal activity to calculate how your body responds to stress using heart rate, activity, and sleep data. This Stress Management Score is only available on the Fitbit Sense currently.
📌 Can a Fitbit detect heart problems?
With the inclusion of an ECG app, the Fitbit Sense can now detect potential heart conditions using heart rate data. It's the first Fitbit device to have this functionality.