Before the end of 2020, Apple unveiled the AirPods Max, its first over-ear active noise-canceling headphones. Should you upgrade to the new headphones or take advantage of the price drops on the AirPods Pro noise-canceling earbuds? We deep dive into the design and features of the AirPods Max and the AirPods Pro to help you choose which pair of true wireless headphones better suits your needs.
AirPods Max vs AirPods Pro Comparison Chart
| | | |
| --- | --- | --- |
| Model | AirPods Max | AirPods Pro |
| | | |
| Price | Check Price | Check Price |
| Design | Over-ear | In-ear |
| Chipset | H1 | H1 |
| Wireless | Yes | Yes |
| ANC | Yes | Yes |
| Water-Resistance | No | IPX4 |
| Battery Life | Up to 20 hours with ANC | Up to 20 hours with ANC |
| Quick Charging | 5 minutes for 1.5 hours of runtime | 5 minutes for 1 hour of runtime |
| Charging Case | No | Yes |
| Transparency Mode | Yes | Yes |
| Adaptive EQ | Yes | Yes |
| Microphone | 9 | 4 |
| Colors | Space Gray, Silver, Black, Sky Blue, Green, Pink | White |
| Weight | 386 g | 5.4 g each earbud |
Design
These Apple headphones can't be more different
The design of the latest addition to the AirPods line is a departure from Apple's in-ear true wireless headphones. The AirPods Max are pretty hefty over-ear noise-canceling headphones with a knit canopy headband and memory foam cushions. Their ear cushions are magnetic and can be detached and replaced with a new or different-colored earcup (sold separately) if you're into mixing and matching. This is similar to the AirPods Pro's detachable earbud tips.
If you prefer a pair of headphones that you can conveniently carry around, the AirPods Pro are the better fit for you. The new AirPods Max's ear cups cannot be folded inward and are not the most portable. At 386 grams, they're also significantly heavier than the 10.8-gram AirPods Pro earbuds.
Unlike the AirPods Pro and most over-ear headphones that feature touch controls, the AirPods Max are equipped with a Digital Crown, similar to the ones you see on the Apple Watch. You can pause and play the music, activate Siri, or adjust the volume using the Digital Crown. As for the AirPods Pros, the touch controls are available on each earbud and its stem.
Noise Cancellation & Sound
Both headphones use the H1 chip, but the AirPods Max have more microphones than the AirPods Pro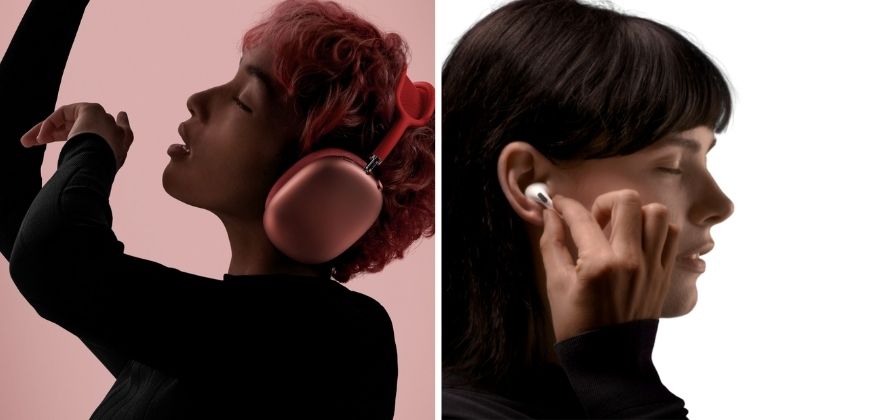 While the AirPods Max and the Airpods Pros may have very different designs and profiles, they are comparable where it matters: sound quality and active noise cancellation. Both true wireless headphones are equipped with the Apple H1 chip that boasts 10 audio cores. They also feature distortionless playback and spatial audio for that immersive listening experience.
Both the AirPods Max and Pro are active noise-canceling headphones that won't disappoint. Their adaptive EQ allows them to detect the sound in your surroundings and fine tune what you hear so you get consistently high-quality audio. With that said, the AirPods Max boasts nine microphones, including a dedicated microphone for wind noise cancellation. This is a huge upgrade from the two microphones found on each earbud of the Apple AirPods Pro. If you plan on using your AirPods heavily for calls, the AirPods Max are for you.
Just like most premium ANC headphones, both Apple AirPods have a transparency mode so you can hear your surroundings as needed.
Battery and Accessories
The Apple AirPods Max don't have a wireless charging case
In terms of battery life, the AirPods Max and AirPods Pro are comparable. They boast up to 20 hours of battery life with ANC, and more on transparency mode. Unlike the previous iteration of Apple AirPods, the Max headphones don't come with a charging case. What you get with the AirPods Max instead is a lightning cable and a Smart Case that matches the headphones' color. The AirPods Max goes into battery-saving mode whenever it detects that it's stored in the Smart Case. The downside to this case is it doesn't protect the headphones completely as the headband is still exposed.
A unique feature of the AirPods Max is its detachable magnetic cushions, as mentioned earlier. These will set you back another $35 or so for each ear cushion. Likewise, the AirPods Pros' ear tips can also be detached, and replacing them only costs around $8 USD for two sets. Among other accessories available to the AirPods Pros are exclusive charging cases and wireless chargers, to name some.
Verdict
The AirPods Pro deliver better value for money
Save 13%
Save 24%
The AirPods Max are no doubt very well-made, unique, and deliver excellent audio. But for their price? It's hard to recommend the AirPods Max over the AirPods Pro. At a fraction of the price of the AirPods Max, you'll get great ANC and high-quality audio with the more lightweight and portable AirPods Pro.
If you're after a more powerful pair of headphones and prefer an over-ear design and more color options, the AirPods Max will suit you better. However, if you just want over-ear headphones with top-notch noise-cancellation minus the sky-high price of the AirPods Max, you might want to consider the Sony WH-1000XM4 or Bose Noise Canceling Headphones 700 (NC 700).
FAQs
📌 Which is better, the AirPods Max or the AirPods Pro?
It's hard to choose which is better between the two because they are very different in terms of price and design. In terms of better value for money, the AirPods Pro wins, hands-down. In terms of better computational audio, then the AirPods Max have the edge.
📌 Are the AirPods Max noise-canceling?
Yes, the AirPods Max feature active noise-cancellation, adaptive EQ, and nine microphones.
📌 Are the AirPods Pro waterproof?
The AirPods Pro are IPX4-rated, meaning they are splash and water-resistant, but shouldn't be submerged in water.
📌 Are the AirPods Max waterproof?
No, they are not waterproof or water-resistant at all. They are not recommended for use during intense sweat sessions.
Last update on 2021-07-19 / Affiliate links / Images from Amazon Product Advertising API