It's been four years since Apple released the original iPhone SE, and now it's back. Fans of the small iPhone can get all of the best features of the speedy iPhone 11 packaged into a handier size, and it's $300 less to boot. Here's a closer look at the specs of the iPhone SE 2 A2275 model for those interested in the new budget-friendly iPhone.
A2275 iPhone SE 2 (A2275 Model) Specs
| | |
| --- | --- |
| Model | iPhone SE 64GB (Cricket Wireless) |
|   |   |
| Price | Check Price on Amazon  |
| Colors | Black, White, (PRODUCT)RED |
| Display | 4.7″ Retina HD |
| Resolution | 1334 x 750 pixels |
| Pixel Density | 326 ppi |
| Height | 5.45″ |
| Width | 2.65″ |
| Depth | 0.29″ |
| Weight | 148 g |
| System Chip | Apple A13 |
| Internal Storage | 64GB, 128GB, 256GB |
| Front Camera | 7MP ƒ/2.2 aperture |
| Rear Camera | 12MP Wide ƒ/1.8 aperture |
| Video | 4K at 24/30/60 fps, 1080p at 30/60 fps, 720p at 30 fps |
| Connectivity | Gigabit-class LTE, 802.11ax Wi‑Fi 6, Bluetooth 5.0, NFC |
| Bands | See list below |
| Battery Life | Up to 13 hours |
| Fast Charging | Yes (sold separately) |
| Release | April 2020 |
Size
The iPhone SE (A2275 model) is the same size as the iPhone 8.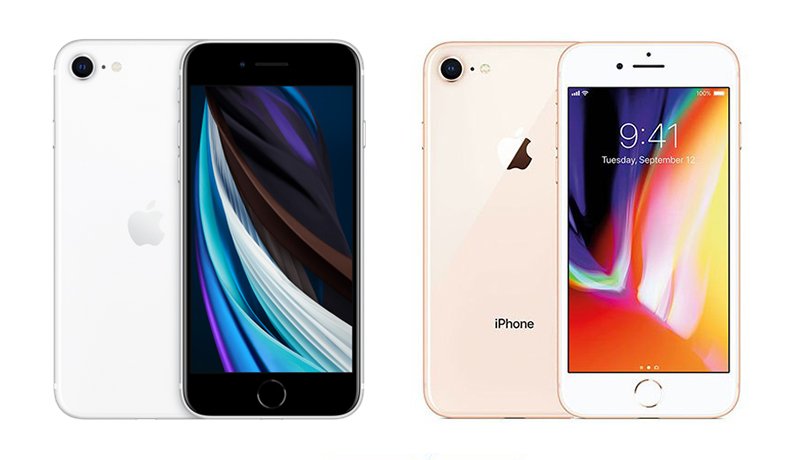 Apple essentially took the iPhone's A13 chip and cameras and slipped them inside the iPhone 8 to create the new iPhone SE. As you'll notice from the side-by-side photo above, the iPhone SE 2 fits right at home in the iPhone 8 family, since even its dimensions are exactly the same as the older phone. Compared to the slew of gigantic iPhones that have come out in recent years, it's a refreshing option for those who simply prefer smaller handsets.
Still, the iPhone SE is a 'small' phone only when compared to current standards. You'll be able to handle it easily with one hand, though not at the same degree as the original SE. With the release of the A2275 model, it's unlikely that Apple will ever again release a 4-inch iPhone, but it's actually a good thing. Times have changed and the definition of a small phone has evolved as manufacturers continue to bring us bigger and bigger smartphones.
The new iPhone SE feels like the perfect combination of size and features if overlarge displays are too much for you. It has the aluminum and glass casing that once housed a flagship model, so it doesn't feel cheap either.
Display
The iPhone SE (A2275 model) has a 4.7-inch Retina HD display.
In an industry where 6-inch screens are the norm, the iPhone SE's 4.7-inch display stands out even more. This secures its place as a top option for people longing for the 'sensible' display sizes of the past five years or so. The Retina HD screen of the iPhone SE A2275 is once again similar to the iPhone 8, with the same thick bezels at top and bottom. Those who missed the physical home button will find it on its usual spot too.
The iPhone SE 2 is as sharp as current-gen iPhones, sporting 1334 x 750 pixels at 326 ppi. It's big enough to watch movies on, though don't be surprised to find yourself squinting at the screen every once in a while. We've slowly become used to ever increasingly large displays that shifting back to a bright 4.7-inch LCD will take some adjustment.
There's no doubt that there are still plenty of small phone fans out there, which is exactly what Apple is banking on, eager to get their hands on the iPhone SE, especially considering its hardware.
Performance
The iPhone SE (A2275 model) is faster than non-iPhone 11 models.
As mentioned, the A2275 iPhone SE is powered by Apple's A13 Bionic chip, currently the fastest system-on-chip used on a smartphone. Placing this powerful chip and its accompanying 3rd-gen Neural Engine into the iPhone SE 2nd Gen makes this tiny phone a lean, very mean, machine. This lets it run nearly all of the most demanding apps just as easily as the iPhone 11.
This gives the iPhone SE 2 incredible value, indeed. It's easily the most value you can get out of a phone in its price range. Getting A13 chip performance in an affordable yet premium shell is a big deal. If you're looking to save by going for previous iPhones, the iPhone SE makes a clear case to be your pick instead. You get all of the latest features of iOS 13, as well as better longevity for future updates, while spending far less than with the current-gen iPhone.
Cameras
The iPhone SE (A2275 model) has cameras and imaging software similar to those on the iPhone 11.
The cameras on the iPhone SE 2 are just as impressive as its chip. Apple brings many popular features found on its iPhone 11 photography suite to the SE, including Portrait mode, Portrait Lighting, and Smart HDR. The rear camera uses the same 12MP Wide sensor as the iPhone 11, though it's limited to only 5x digital zoom and lacks the improved Night mode.
As such, you can take sharp and stunning photos with the iPhone SE, again much better than any smartphone in its range. Portrait mode lets you artfully blur the background of your subjects or in selfies for that highly desired focus, thanks to the A13's machine learning algorithms and image processing tech.
You can instantly switch into video recording mode, which tops at 4K resolution up to 60 fps, when taking photos by using QuickTake. The 2nd generation iPhone SE has built-in optical image stabilization too so you end up with smooth videos you can edit on the same phone.
Bands
The iPhone SE (A2275 model) can connect to LTE, 4G, and 3G cellular networks.
The iPhone SE A2275 model is released for North America and can only reach its peak wireless speeds when connected to networks in Canada and the US. It can utilize the following cellular bands:
FDD‑LTE (Bands 1, 2, 3, 4, 5, 7, 8, 12, 13, 14, 17, 18, 19, 20, 25, 26, 29, 30, 66, 71)
TD‑LTE (Bands 34, 38, 39, 40, 41, 42, 46, 48)
CDMA EV‑DO Rev. A (800, 1900 MHz)
UMTS/HSPA+/DC‑HSDPA (850, 900, 1700/2100, 1900, 2100 MHz)
GSM/EDGE (850, 900, 1800, 1900 MHz)
Make sure to check the model number of the iPhone SE you're planning to purchase to be certain that it will work perfectly in your area. Other iPhone SE 2nd Generation models are A2298 (China) and A2296 (for all other countries and regions).
In addition, all models of the new iPhone SE have Gigabit-class LTE, 802.11ax Wi-Fi 6, Bluetooth 5.0, and NFC with reader remote. You won't have to worry about connectivity no matter which carrier you go with. It also has GPS/GNSS and digital compass for navigation and activity tracking.
Verdict
The iPhone SE (A2275 model) is the budget phone to beat this year.
By providing iPhone 11 performance in an iPhone 8 shell, Apple has cleverly positioned the new iPhone SE (A2275 model) to be the budget smartphone to beat in 2020. Its speedy A13 chip, amazing cameras, and full connectivity make it incredibly hard for any Android smartphone to compete with while matching its earth-friendly price. Those who have older iPhones might find it the best device to upgrade to, as its size remains easy to handle and it won't break wallets in half.
Last update on 2020-08-08 / Affiliate links / Images from Amazon Product Advertising API